Balsamic Glazed Salmon Salad Bowl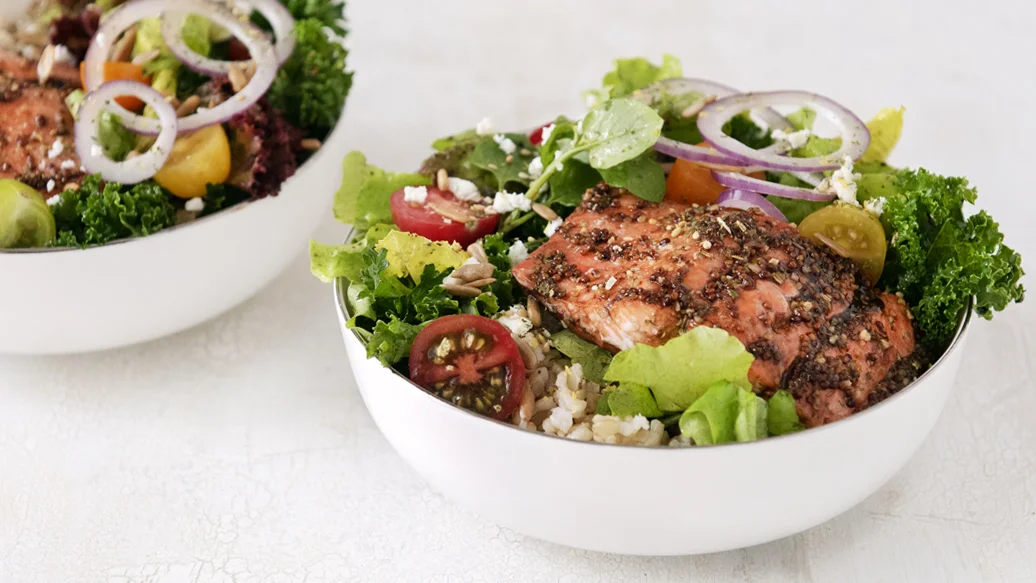 20 min
4 servings
$5.10/serving
Perfectly Balance Your Plate
Serve with 1⁄2 cup cooked quinoa or rice—try adding it to the bowl! 
Ingredients
1⁄4 cup + 2 tsp balsamic vinegar
2 tbsp honey
1 tbsp Dijon mustard
1 lb (450 g) salmon fillet, about 1" thick
1 tbsp olive oil
1⁄2 cup goat cheese crumbles
8 cups mixed greens
1 pint cherry tomatoes
Toppings (optional): Balsamic glaze, sliced red onion, or sunflower seeds.
Preparation
Preheat oven to 400° F.  
Meanwhile, prepare sauce. In a bowl, whisk together 1⁄4 cup vinegar, honey, mustard, and 2 tsp seasoning. Place salmon on 1⁄4 Sheet Pan lined with 1⁄4 Sheet Pan Liner. Pour sauce over salmon. Let stand to marinate while preparing remaining ingredients. 
For dressing, in a large mixing bowl, whisk together remaining 1 tsp dressing mix and 2 tsp vinegar with oil. Add cheese. Place greens on top; don't mix. Set aside. 
Bake fish until cooked through, about 8–10 min. 
Cut cherry tomatoes in half, add to salad bowl. 
Remove salmon to a cutting board. Slice into 4 portions.  
Toss salad so dressing is evenly mixed. Divide salad between four plates, add salmon; add toppings, if desired.  
Nutritional Information
Per serving: Calories 320, Fat 15 g (Saturated 4.5 g, Trans 0 g), Cholesterol 70 mg, Sodium 400 mg, Carbohydrate 18 g (Fibre 4 g, Sugars 13 g), Protein 29 g.
Tips
Once the salmon is cooked, the sauce that pooled on the 1⁄4 Sheet Pan Liner is full of flavour! Spoon on top of salmon, if desired.