Baked Potato and Eggs Florentine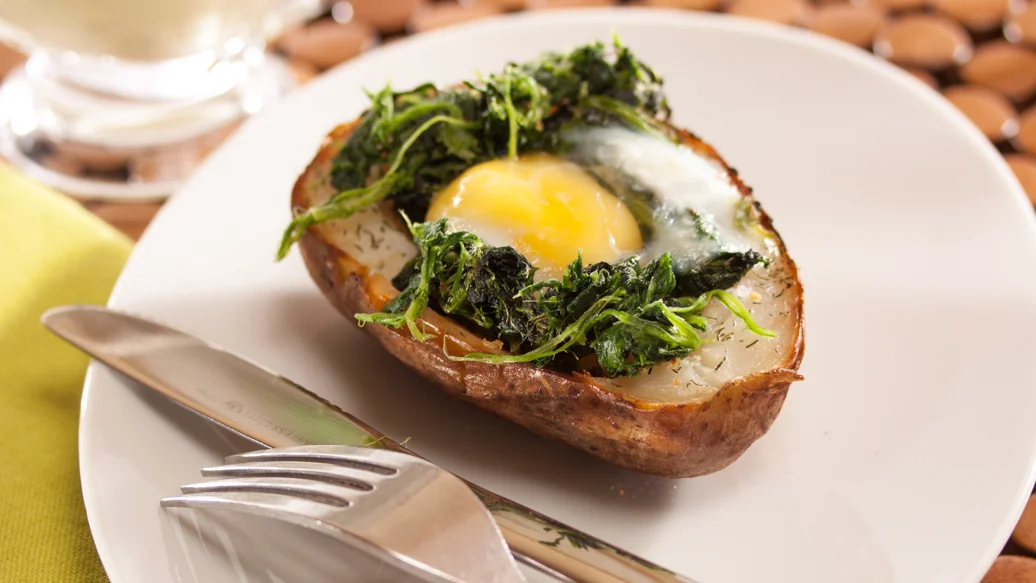 25 min
4 servings
$2.61/serving
A new, elevated way to prepare potatoes for breakfast or brunch! Slash almost an hour of cooking time by "baking" potatoes in your Multipurpose Steamer before finishing them off in the oven. The spuds are topped with eggs for a full serving of protein, and Epicure's creamy Alfredo Sauce for a decadent, indulgent final dish without all the calories. Shake on your favourite Epicure Dip Mix for even more flavour!
Perfectly Balance Your Plate
 Serve with 2 cups leafy greens and 1 tbsp Epicure Dressing.  
Ingredients
2 large baking potatoes, such as russets
1 tsp olive oil
Sea Salt, optional
1 pkg (10 oz/ 300 g) frozen spinach, thawed and drained
4 eggs
1⁄4 cup grated Swiss or Parmesan cheese
Preparation
Preheat oven to 400° F. 
Wash and scrub potatoes; do not peel. Dry with a kitchen towel. Prick each a few times with a fork. 
Brush with oil, then sprinkle with Sea Salt. Place in Multipurpose Steamer and microwave for 5–7 min, until easily pierced with a fork. Or, place potatoes directly on oven rack and bake until fork-tender, about 45 minutes to 1 hour. Turn spuds over half way through baking. 
Place spinach in a microwave-safe bowl. Stir in Lemon Dilly Dip Mix. Microwave on medium heat for 3–5 minutes, stirring occasionally, until warm.
Cut cooked potatoes in half lengthwise. Scoop out enough potato to make a medium-sized hollow in each. Half fill hollows with warm spinach.
Crack an egg over each and sprinkle with cheese. Bake in oven until eggs are set, about 10 minutes. Spoon Alfredo Sauce overtop and serve.
Nutritional Information
Per serving: Calories 380, Fat 13 g (Saturated 6 g, Trans 0.2 g), Cholesterol 210 mg, Sodium 410 mg, Carbohydrate 46 g (Fibre 6 g, Sugars 9 g), Protein 20 g.