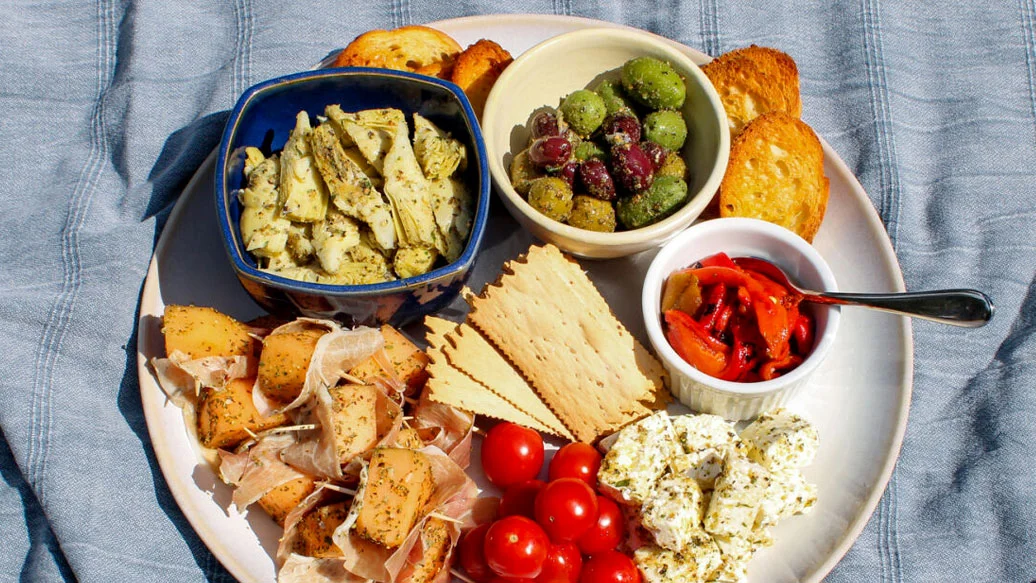 15 min
8 servings
$2.30/serving
Step into the heart of Italian heritage with antipasti, the traditional opening act to any Italian meal. Gather 'round the table with your friends and family to savour food, clink glasses, and exchange stories—it'll be a celebration of togetherness as much as the start of a meal. 
Ingredients
1⁄4 small cantaloupe
2 oz (50 g) sliced prosciutto, about 3 slices
1 can (14 oz/398 ml) whole artichoke hearts, drained
12 mixed olives
2 tbsp olive oil, divided
100 g (4 oz) feta, about 1 cup, drained
1⁄2 cup roasted red pepper, drained
1⁄2 cup cherry tomatoes 
Preparation
Peel and remove seeds from cantaloupe. Chop into 1 1⁄2–2" pieces; toss with sauce mix.  
Slice prosciutto slices into thirds. Wrap one around each piece of cantaloupe and secure with a toothpick.  
Chop artichokes into quarters and place in a medium bowl with olives. Toss with 1 tbsp each seasoning and oil.  
Cut feta into 1⁄2" cubes and place in another bowl. Toss with remaining 1 tbsp seasoning and oil. 
Thinly slice roasted red peppers. 
Arrange prosciutto-wrapped cantaloupe, artichokes and olives, feta, peppers, and cherry tomatoes on a large board or platter. Serve with bread or crackers.
Nutritional Information
Per serving: Calories 120, Fat 8 g (Saturated 2.5 g, Trans 0 g), Cholesterol 15 mg, Sodium 450 mg, Carbohydrate 9 g (Fibre 2 g, Sugars 3 g), Protein 5 g.