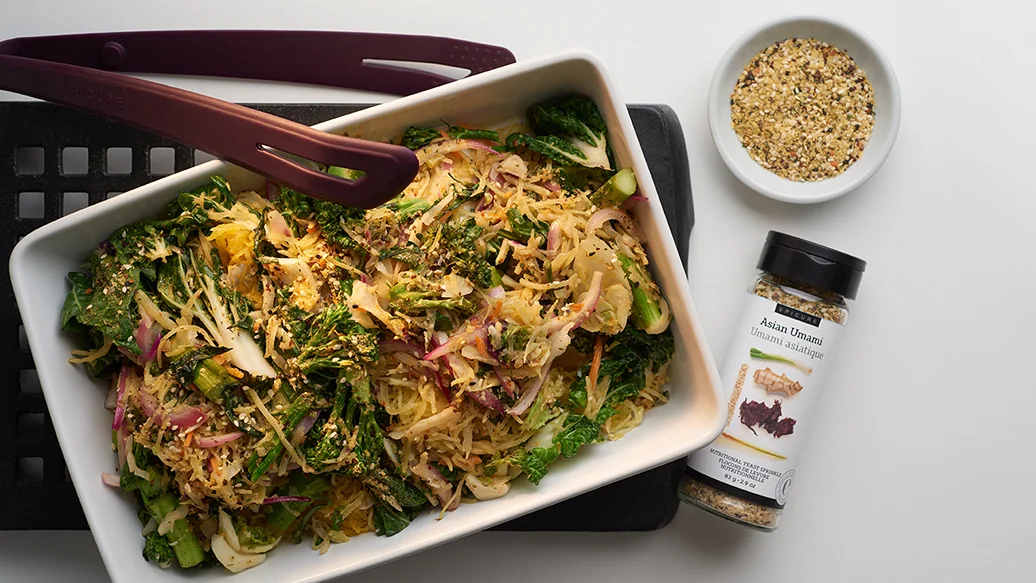 20 min
4 servings
$2.65/serving
A perfect side to fill half of your plate!
Perfectly Balance Your Plate
Serve with 1 serving protein, your choice, and 1⁄2 cup steamed rice.
Ingredients
1 small spaghetti squash, cut in half, seeds removed
Sea Salt, to taste
Black Pepper, to taste
3 cups Asian-style frozen or fresh mixed vegetables
2 cups coleslaw mix
1 tbsp Savoury Herb Gravy Mix
Preparation
Season squash halves with salt and pepper, if desired, and place skin to skin in a Multipurpose Steamer. Cover and cook in microwave on high for 15 minutes. Let it stand for a few minutes, then use a fork to scrape out the squash into "spaghetti" strands. Set aside.
Meanwhile, heat a Wok and add vegetables, slaw, and broth; cover and steam for 4 minutes, until tender-crisp.
Whisk nourish dressing with gravy mix and add to vegetables. Cook for 2 more minutes for the sauce to thicken.
Add spaghetti squash. Use a Grip & Grab to incorporate everything.
Garnish with your favourite nutritional yeast topper, and serve.
Nutritional Information
Per serving: Calories 180, Fat 8 g (Saturated 1 g, Trans 0 g), Cholesterol 0 mg, Sodium 310 mg, Carbohydrate 26 g (Fibre 6 g, Sugars 11 g), Protein 4 g.