Sylvie's Sheet Pan Prawns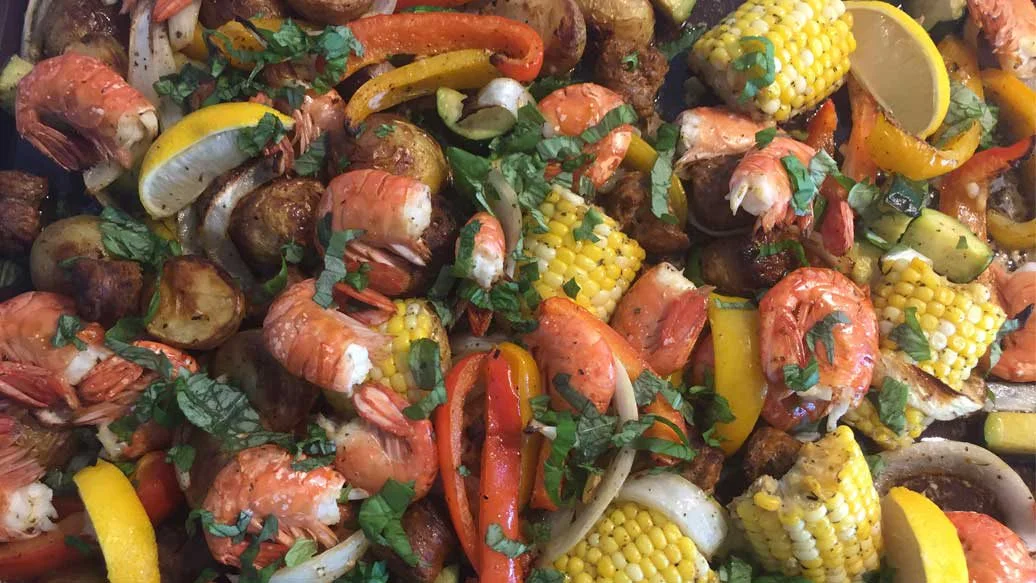 40 min
4 servings
$5.44/serving
Delicious served with Chipotle or Roasted Garlic Aioli.
Ingredients
8 - 10 nugget potatoes
1 chorizo sausage, about 5" long
1 large garlic clove
3 tbsp olive oil
2 tbsp lemon juice
Black Pepper, to taste
1 medium green bell pepper
1 medium red bell pepper
1 medium onion
16 - 24 whole uncooked prawns
Sea Salt, to taste
Toppings (optional): lemon slices
Preparation
Slice potatoes in half; place in Multipurpose Steamer. Cover; microwave on high until just tender, about 5–6 min. Remove from steamer and let cool to room temperature.
Slice sausage. Place in Multipurpose Steamer (don't wash). Microwave, covered, 90 seconds to remove some of the fat, if desired.  
Preheat oven to 400° F. Line Sheet Pan with Sheet Pan Liner.
Mince garlic; place in a large bowl. Add oil, lemon juice, sauce mix, pepper, and topper blend, if using. Whisk to combine.
Slice peppers and onion; add to bowl along with cooked potatoes and sausage. Using a spatula, toss until well coated. Place on prepared pan, spreading out in a single layer as best you can. Roast 10 min.
Add prawns to bowl and stir gently to coat with any remaining oil mixture. Set aside.
 Add prawns and roast an additional 12–15 min, or until prawns are cooked and sizzling. Top with lemon slices, if desired.
Nutritional Information
Per serving: Calories 250, Fat 16 g (Saturated 3.5 g, Trans 0 g), Cholesterol 60 mg, Sodium 440 mg, Carbohydrate 15 g (Fibre 2 g, Sugars 2 g), Protein 11 g.
Tips
Swap chorizo sausage with cured sausage of your choice.