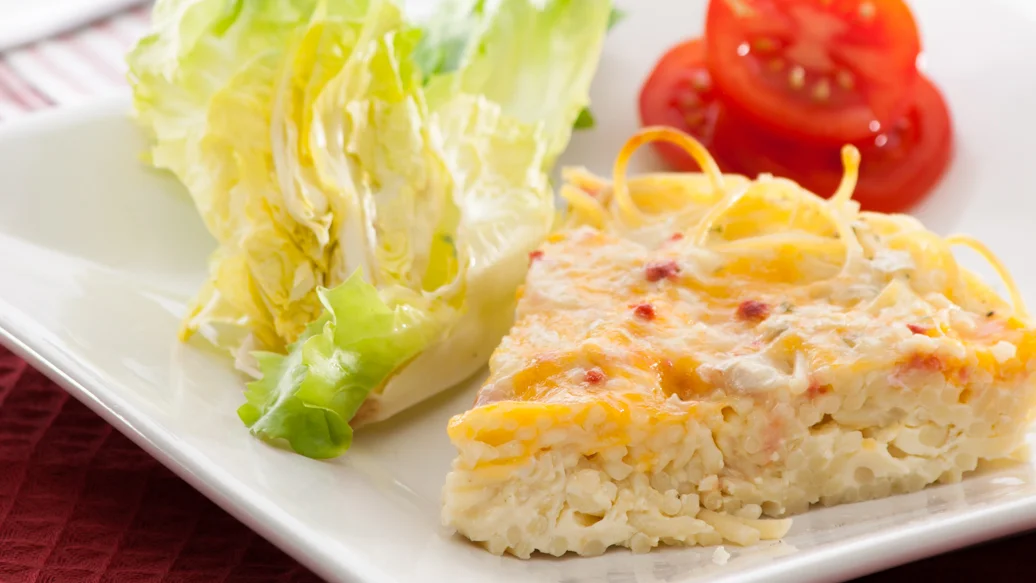 40 min
4 servings
$1.95/serving
Ingredients
1 lb (450 g) spaghetti, plus more as needed
1 small onion, diced
2 tbsp vegetable oil
4 eggs, beaten
1 1⁄3 cups milk
1 cup mixed shredded cheese, your choice
Preparation
Preheat oven to 350° F (175° C).
Break spaghetti into 4 pieces – enough for cooked spaghetti to cover bottom of a deep pie dish or quiche pan to 3⁄4".
Cook spaghetti according to package directions until al dente. Drain and place in pie dish.
Sauté onion in oil until softened.
In a bowl, whisk eggs lightly with milk. Add cheese, onions, and CCB Dip Mix. Season with Salt and Pepper. Pour over spaghetti.
Bake 30 minutes. Let rest 5 minutes before slicing and serving.
Nutritional Information
Per serving: Calories 470, Fat 17 g (Saturated 4.5 g, Trans 0 g), Cholesterol 250 mg, Sodium 380 mg, Carbohydrate 51 g (Fibre 2 g, Sugars 9 g), Protein 26 g.
Tips
Choose whole-wheat pasta to increase your fibre intake – important for heart health and weight maintenance.