Smoky Turkey and Multi-bean Chili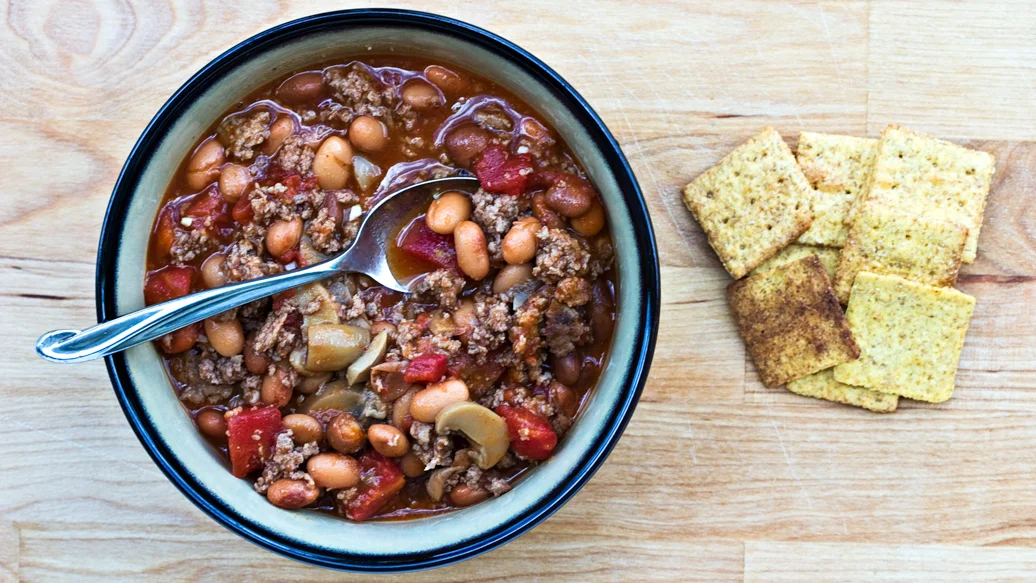 40 - 45 min
8 servings
$2.20/serving
Ingredients
1 tbsp vegetable oil
1 lb (450 g) ground turkey
2 green peppers, diced
1 cup sliced mushrooms
1 can (19 oz /540 ml) black beans, drained and rinsed
1 can (19 oz /540 ml) kidney beans, drained and rinsed
1 can (19 oz /540 ml) white navy beans, drained and rinsed
1 can (28 oz /796 ml) diced tomatoes
1 tbsp Creamy Garlic Hummus Dip Mix
2 tsp chipotle chili, or to taste
Preparation
Heat Multipurpose Pot over medium-high heat. Add oil and cook turkey until lightly browned.
Add green pepper, mushrooms and 3 Onion Dip Mix. Continue cooking for 3 minutes.
Add remaining ingredients and bring to a boil. Reduce temperature to low and simmer chili for 30 minutes. Season with Sea Salt and Black Pepper.
Nutritional Information
Per serving: Calories 380, Fat 9 g (Saturated 2.5 g, Trans 0 g), Cholesterol 55 mg, Sodium 790 mg, Carbohydrate 47 g (Fibre 10 g, Sugars 4 g), Protein 29 g.
Tips
Top steaming bowls of chili with grated cheese and a dollop of sour cream or Guacamole.
Serve with Southern Cornmeal Muffins and a green salad.