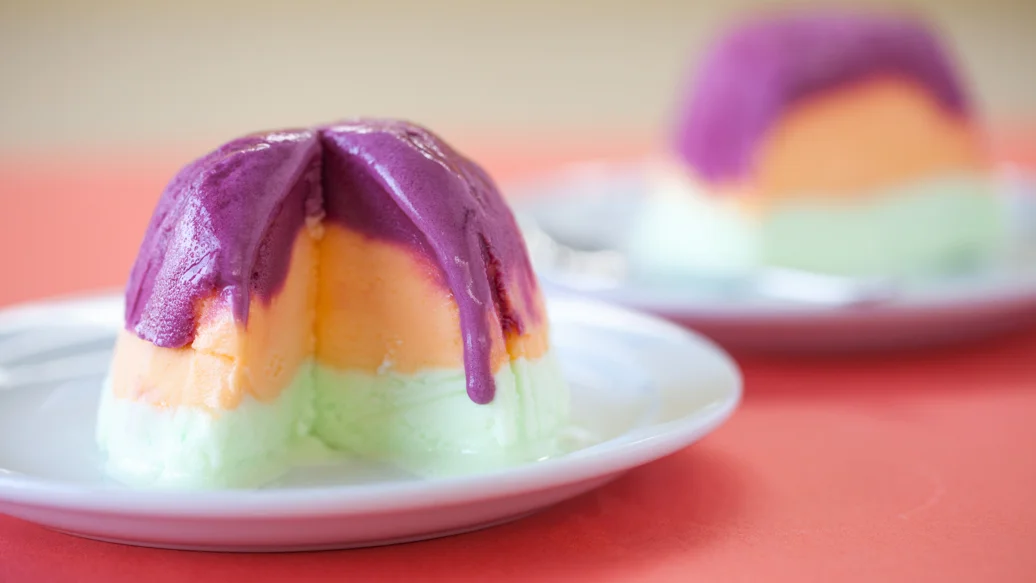 3 hrs 15 min
4 - 8 servings
$0.64/serving
Our Prep Bowls are the perfect shape for fun summery sherbet bombes!
Ingredients
1 1⁄2 - 2 cups raspberry or blackcurrant sherbet
1 1⁄2 - 2 cups orange sherbet
1 1⁄2 - 2 cups lime sherbet
Preparation
For easier scooping, let sherbet soften at room temperate, 8–10 minutes. Line Prep Bowls with plastic wrap, letting edges overhang.
Divide raspberry sherbet into Bowls and pack down. Top each with a layer of orange sherbet, then finish with lime. For easier packing, freeze 5 minutes before adding another layer.
Pull up plastic overhang and cover sherbet. Place Lids on tops. Freeze until firm, at least 3 hours, preferably overnight.
To unmold, gently pull on plastic to loosen bombes, then turn out onto plates. For smaller servings, cut bombes in half, then plate.
Nutritional Information
Per serving: Calories 150, Fat 1.5 g (Saturated 0.5 g, Trans 0 g), Cholesterol 5 mg, Sodium 40 mg, Carbohydrate 33 g (Fibre 0 g, Sugars 26 g), Protein 1 g.