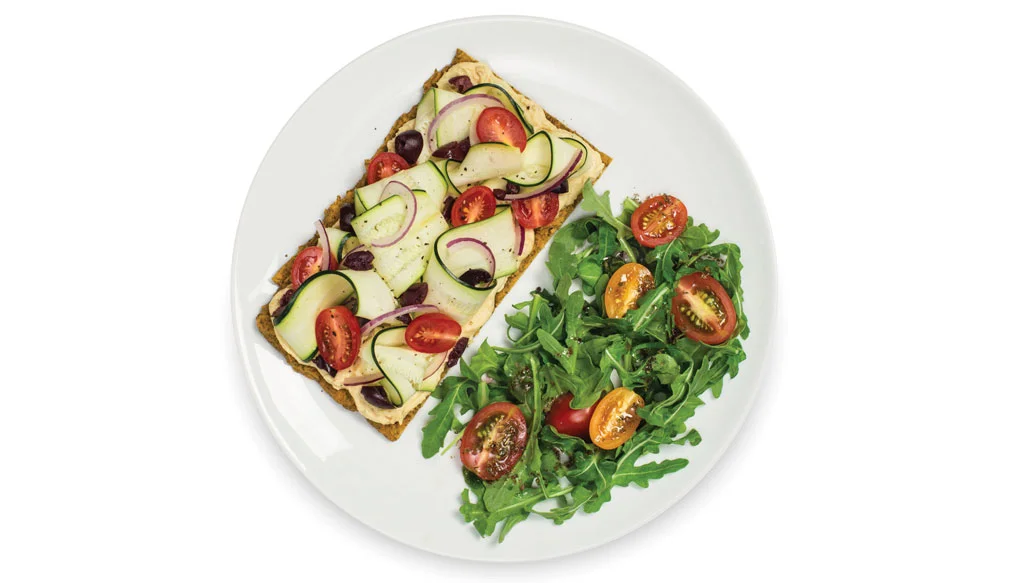 25 min
4 servings
$2.14/serving
Perfectly Balance Your Plate
Serve with 2 cups greens + 1 tbsp prepared Salad Dressing.
Ingredients
1⁄2 cup hot water
3 tbsp lemon juice
1⁄2 zucchini
1 cup mixed cherry tomatoes, halved
1⁄3 cup Kalamata olives, pitted and chopped
1⁄4 red onion, sliced
Preparation
In bowl, stir mix with hot water and lemon juice. Let stand for 10 min.
Preheat oven to 375° F. Line a Sheet Pan with a Sheet Pan Liner. Press falafel mixture onto pan, forming an 8" by 10.5" rectangle. Bake for 15 min.
Meanwhile, combine hummus with dip mix.
Using a 4-in-1 Mandoline, slice zucchini into thin ribbons.
Spread hummus over warm pizza base. Top with zucchini, tomatoes, olives and onions.
Nutritional Information
Per serving: Calories 280, Fat 9 g (Saturated 1 g, Trans 0 g), Cholesterol 0 mg, Sodium 780 mg, Carbohydrate 40 g (Fibre 9 g, Sugars 5 g), Protein 12 g.
Tips
for a crispy crust, place baked pizza base directly on oven rack and bake for an extra 5 min.