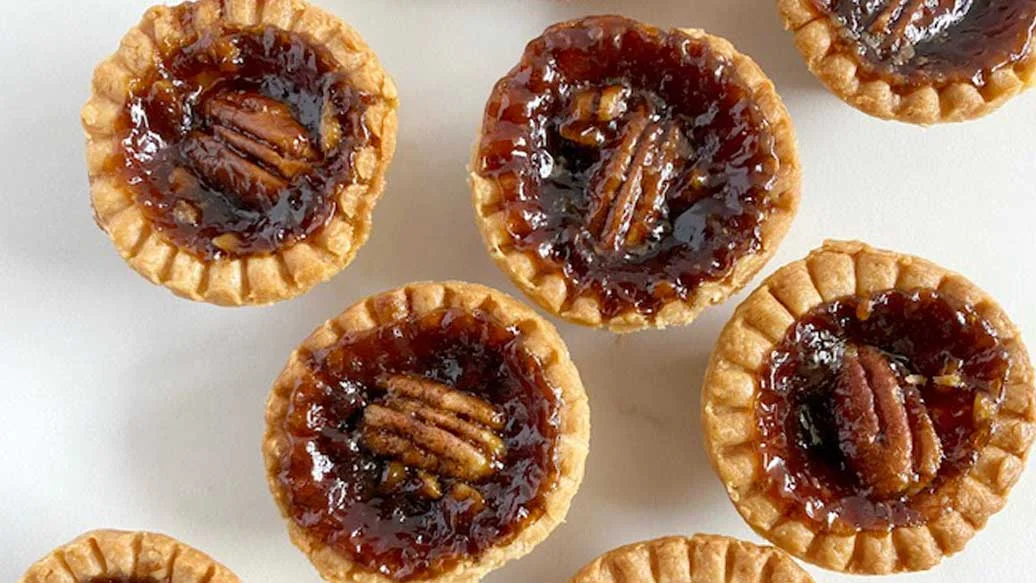 30 min
18 Mini Tarts
$0.68/serving
Easily turn True North Butter Tart Mix into pecan pie bites!  
Ingredients
18 frozen mini tart shells
1⁄4 cup unsalted butter
1 pkg True North Butter Tart Mix
1⁄4 cup warm water
28 pecan halves
2 tbsp miniature chocolate chips
Preparation
Preheat oven to 375° F. Place tart shells on Sheet Pan. Bake 10-12 min, or until golden. 
Meanwhile, melt butter in the microwave, about 30 sec. In a bowl, whisk melted butter with mix and warm water until well combined.  
Roughly chop ten pecan halves, you should have about 2 tbsp. Stir in chopped pecans and chocolate chips.  
Divide filling into cooled tart shells. Top each tart with one pecan half. Bake 10 min or until filling is lightly browned and bubbling. Filling will thicken as it cools; cool completely before serving.
Nutritional Information
Per serving: Calories 140, Fat 8 g (Saturated 3 g, Trans 0.1 g), Cholesterol 5 mg, Sodium 90 mg, Carbohydrate 15 g (Fibre 1 g, Sugars 8 g), Protein 1 g.