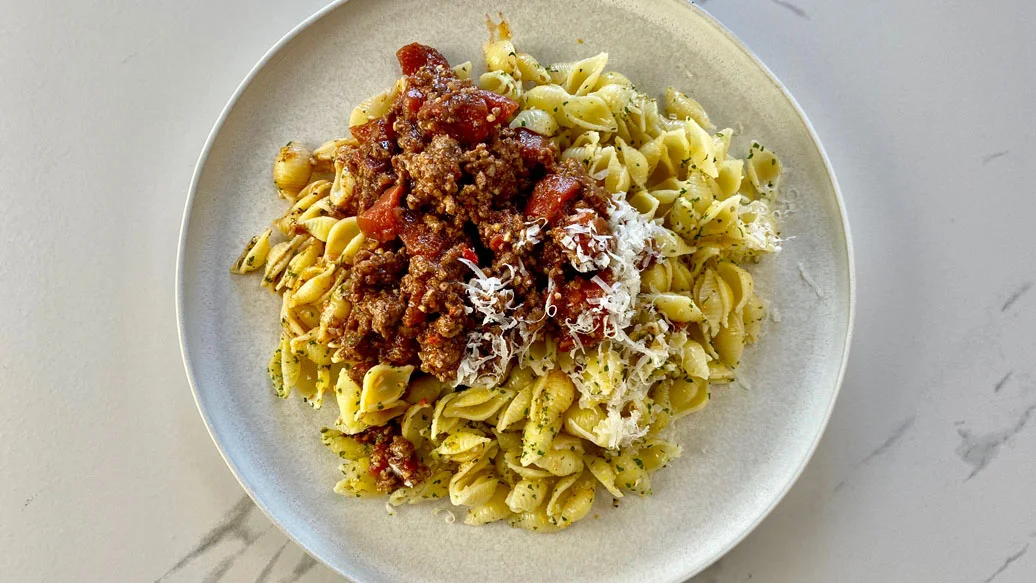 16 min
6 servings
$1.10/serving
The Multipurpose Steamer is ideal for preparing any small shaped pasta like shells, macaroni, penne, or fusilli. Add a simple sauce, like this easy Bolognese and you've got a delicious meal on the table. If you have time, let the sauce simmer longer for deeper depth of flavour.  
Perfectly Balance Your Plate
Serve with 2 cups leafy green salad and 1 tbsp Balsamic Vinaigrette Dressing. 
Ingredients
3 cups uncooked small shell pasta
6 cups hot water
2 tsp oil
1 lb (450 g) lean ground beef, or meatless substitute
1 can (14 oz/398 ml) diced tomatoes
1 can (14 oz/398 ml) crushed tomatoes
1⁄2 pkg Speedy Lasagna Seasoning
Black Pepper, to taste
Sea Salt, to taste
Toppings (optional): Grated parmesan cheese
Preparation
Place pasta in Multipurpose Steamer. Stir in water. Cover; microwave on high until al dente, 10 min.
Meanwhile, heat oil in Wok over medium-high heat. Crumble in beef; cook, using Ground Meat Separator to break up chunks, until meat is cooked through, 4–5 min.
Stir in canned tomatoes (don't drain the diced ones!) and seasoning. Allow the sauce to come to a boil. Partially cover; reduce heat to medium and let simmer 5 min for flavours to blend. Season with salt and pepper, to taste.
Once cooked, drain pasta. Spoon into bowls, add sauce, and topping, if desired.
Nutritional Information
Per serving: Calories 320, Fat 5 g (Saturated 1.5 g, Trans 0.3 g), Cholesterol 40 mg, Sodium 340 mg, Carbohydrate 45 g (Fibre 4 g, Sugars 7 g), Protein 23 g.
Tips
Cook once, eat twice! Double the sauce ingredients, let cool, portion, and freeze for easy meals later.
Swap 3 tbsp Marinara Sauce Mix or Italian Seasoning for Speedy Lasagna.