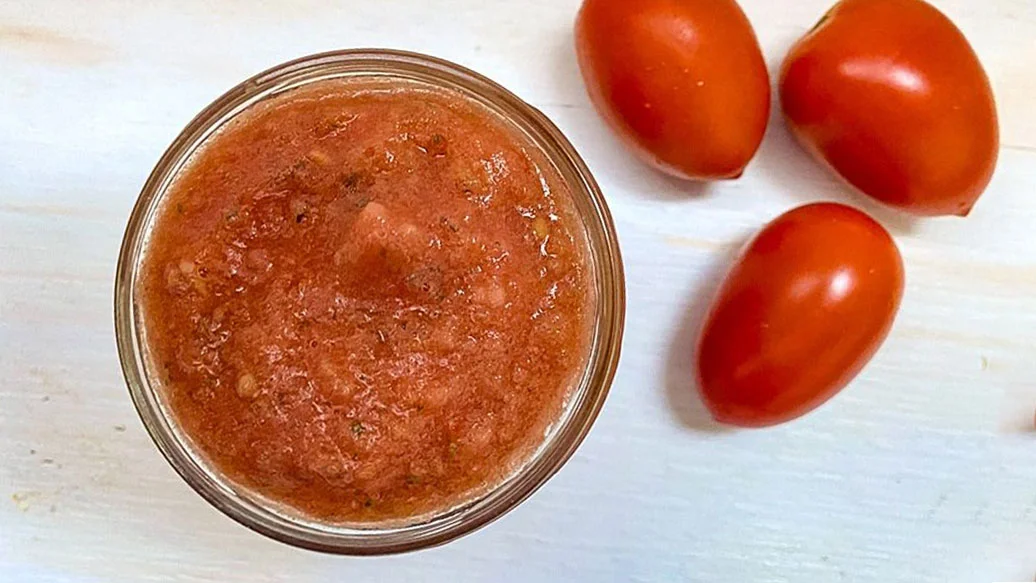 15 min
6 cups
$1.08/serving
Passata is an uncooked tomato purée strained of seeds and skins. The process traditionally involves using a food mill, but we've simplified things with a blender instead. Have passata on hand for all kinds of pasta and pizza sauces, soups, or stews. Make a big batch and freeze it for later so you can enjoy the flavour of summer tomatoes year-round. 
Ingredients
4.4 lbs (2 kg) plum tomatoes
Preparation
Remove the core from the top of the tomatoes.   
Working in batches, add tomatoes to a large pot of boiling water. Cook until the skin starts to wrinkle and split, 45–60 sec. Place them in an ice water bath. Continue with the rest of the tomatoes. 
Peel tomatoes using your hands or a paring knife. Squish out the seeds.   
Add tomatoes to a blender with sauce mix. Purée until smooth.   
Use in your favourite pasta or pizza sauce recipes. If not using within a few days, freeze. 
Nutritional Information
Per serving (½ cup): Calories 30, Fat 0.4 g (Saturated 0 g, Trans 0 g), Cholesterol 0 mg, Sodium 10 mg, Carbohydrate 7 g (Fibre 2 g, Sugars 4 g), Protein 2 g.
Tips
Use the freshest tomatoes you can get your hands on! If you have a choice, tomatoes with less juice and fewer seeds are best, like plum (aka Roma) tomatoes.
Not a fan of food waste? Save the seeds for your next batch of salsa, soup, stew, or Spanish Rice.