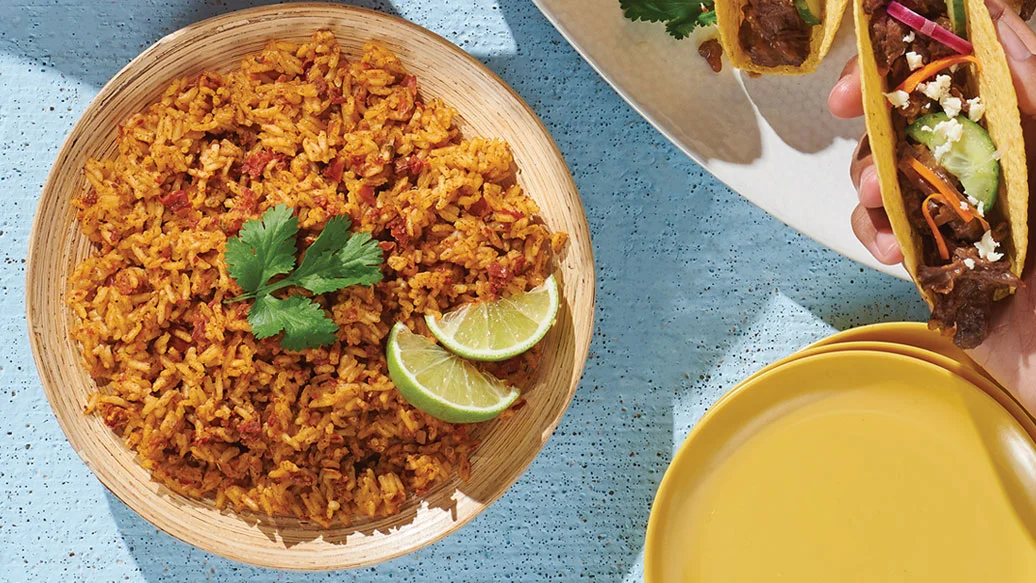 18 min
12 servings
$0.38/serving
Take your rice game up a level.  Also known as "Mexican rice," this is a flavourful pilaf with southwestern flavours. Serve as a side dish or use to fill tacos, burritos, and rice bowls. Streamline cooking and dirty dishes: mix, cook, and serve from the Multipurpose Steamer—our most popular piece of microwave cookware!
Perfectly Balance Your Plate
Use as filling for 2 taco shells or 1 large tortilla with 4 oz (113 g) lean protein and 1 cup sliced veggies.
Ingredients
4–4 1⁄4 cups hot water
1 1⁄2 cups long grain rice
1 tbsp oil
1 tbsp tomato paste
Topping (optional): chopped cilantro
Preparation
In Multipurpose Steamer, combine seasoning, 4 1⁄4 cups water, rice, oil, and tomato paste. Cover and microwave on high 16–18 min, until rice is tender. Or, heat oil in Sauté Pan over high heat. Add seasoning, 4 cups water, rice, and tomato paste; stir to combine. Bring to a boil. Reduce heat to medium-low; cover and simmer 15–20 min, or until rice is tender. 
Top with cilantro, if desired.
Nutritional Information
Per serving (½ cup): Calories 110, Fat 1.5 g (Saturated 0.2 g, Trans 0 g), Cholesterol 0 mg, Sodium 210 mg, Carbohydrate 22 g (Fibre 1 g, Sugars 1 g), Protein 3 g.
Tips
For a full serving of carbs, eat 2 portions of rice. Stir cooked protein (like shrimp or shredded chicken) and sliced veggies into the rice near the end of the cooking time.