Mango Curry Fish with Clementine & Fennel Salad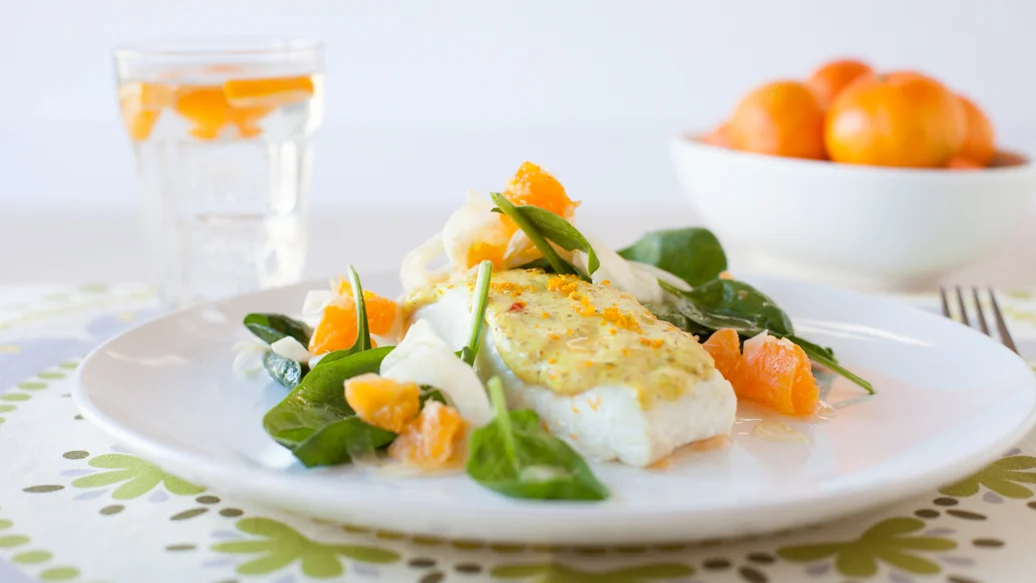 25 - 35 min
4 servings
$2.12/serving
Ingredients
16 oz (500 g) tilapia fish fillets
2 - 3 clementines
1 cup shaved fennel, (tip: use Epicure 4-in-1 Mandoline)
6 cups baby spinach
Chili Garlic Sea Salt, to taste
1 tbsp olive oil
Preparation
Preheat oven to 400 F (205 C). Line a Sheet Pan with Epicure Sheet Pan Liner.
Place fish on Liner and spread tops with Mango Curry Dip. Finely grate zest from 1 clementine over fish. Roast fish in preheated oven until cooked through, about 6 to 8 minutes, depending on thickness of fish.
Meanwhile, squeeze juice from 1 clementine into a large bowl. Peel remaining clementines into segments, then add to bowl.
Add fennel and spinach. Grind Chili Garlic Sea Salt overtop and drizzle with oil. Toss to mix.
When fish is cooked, place on dinner plates and top with salad.
Nutritional Information
Per serving: Calories 210, Fat 8 g (Saturated 2 g, Trans 0 g), Cholesterol 60 mg, Sodium 270 mg, Carbohydrate 10 g (Fibre 2 g, Sugars 4 g), Protein 24 g.