Grilled Zucchini and Eggplant Stacks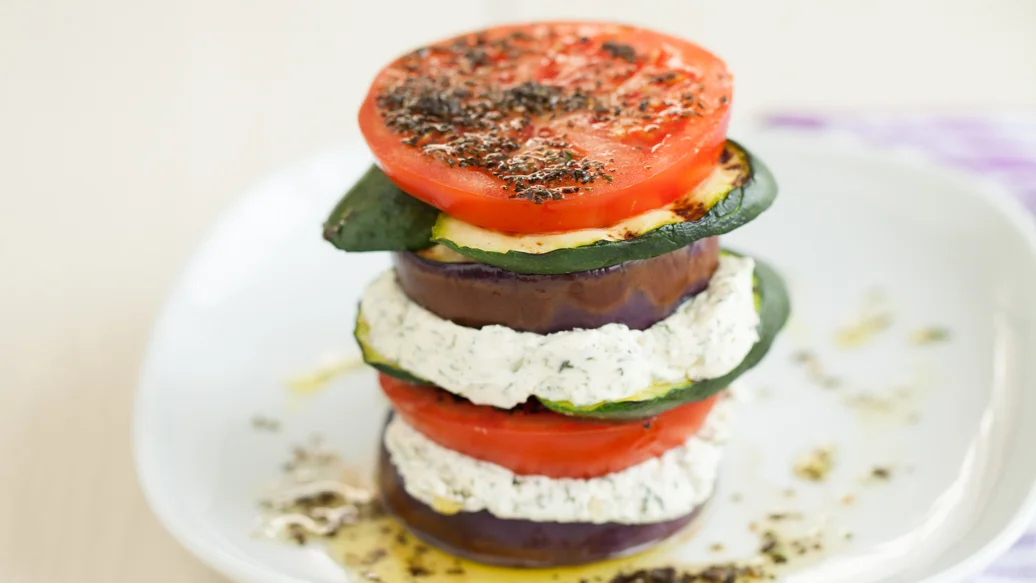 15 min
6 servings
$1.70/serving
An elegant presentation of layered vegetables that is simple to make.
Ingredients
2 medium tomatoes, each sliced into 6 rounds
2 green zucchinis, each cut into 6 thick rounds
1 small eggplant, cut into 6 thick rounds
1 cup light cream cheese
Preparation
Spread tomato slices with Pesto Sauce and set aside.
Brush zucchini and eggplant with Greek Dressing.
Grill zucchini and eggplant on the barbecue over medium-high heat for 2–3 minutes per side until lightly charred.
Blend cream cheese with Lemon Dilly Dip. Place warm eggplant slices on plates and spread with a little cream cheese mixture. Top with a slice of zucchini, then more cream cheese. Cover with a slice of tomato and continue layering one more time. Great warm or at room temperature.
Nutritional Information
Per serving: Calories 430, Fat 42 g (Saturated 9 g, Trans 0 g), Cholesterol 30 mg, Sodium 250 mg, Carbohydrate 11 g (Fibre 4 g, Sugars 3 g), Protein 5 g.