El Dorado Slow Cooker Pork Chops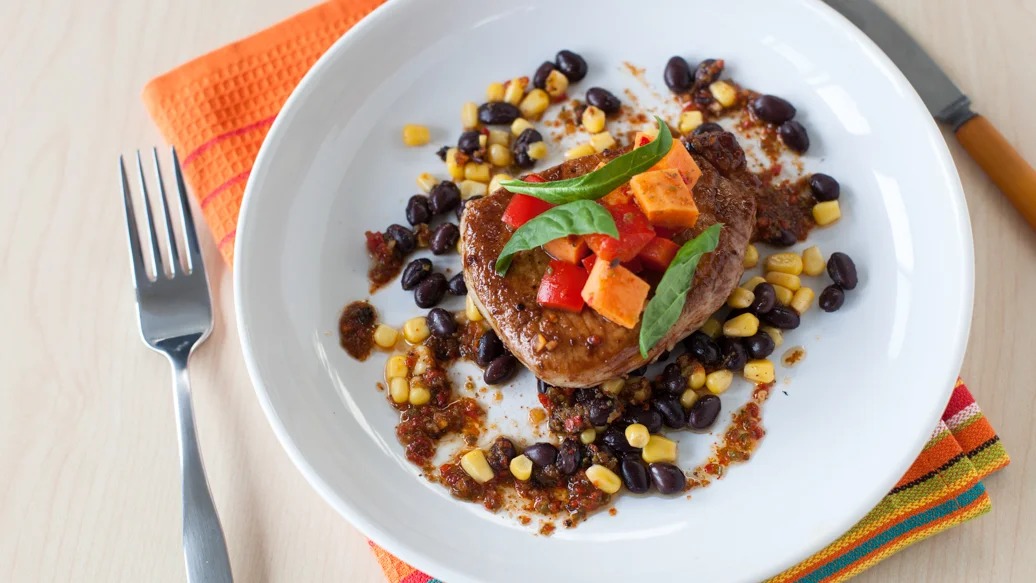 1 hr 10 min
6 servings
$2.95/serving
Here's a gorgeous meal bursting with Tex-Mex flavours!
Ingredients
4 unpeeled sweet potatoes, cut into small cubes
1 tbsp extra-virgin olive oil
1⁄2 cup red bell pepper, chopped
2 tbsp brown sugar
2 tbsp cider vinegar
6 (1 inch thick) boneless pork loin chops
Sea Salt, to taste
Black Pepper, to taste
1 can (15 oz/425 ml) black beans, rinsed and drained
1 can (15oz/425 ml) corn, drained
1 recipe prepared El Dorado Sauce
Preparation
Preheat oven to 375° F (190° C) if cooking in the oven.
In a large mixing bowl, combine potatoes, oil, peppers, Toasted Onion, sugar, and vinegar. Set aside.
Place pork chops in a slow cooker or baking dish and season with Sea Salt and Black Pepper.
Pour potato mixture evenly over pork. Cook on high in a slow cooker or in the oven until potatoes are soft and pork is no longer pink and has reached an internal temperature of 160° F (70° C), 30 – 40 minutes, or 1 hour in a slow cooker.
In the last 10 minutes of cooking, add the beans and corn.
Arrange on a platter and spoon El Dorado Sauce on each chop.
Nutritional Information
Per serving: Calories 460, Fat 15 g (Saturated 3 g, Trans 0 g), Cholesterol 60 mg, Sodium 510 mg, Carbohydrate 57 g (Fibre 9 g, Sugars 19 g), Protein 26 g.
Tips
If you are using a slow cooker, brown the pork chops in a frying pan before cooking for added caramelized flavour.