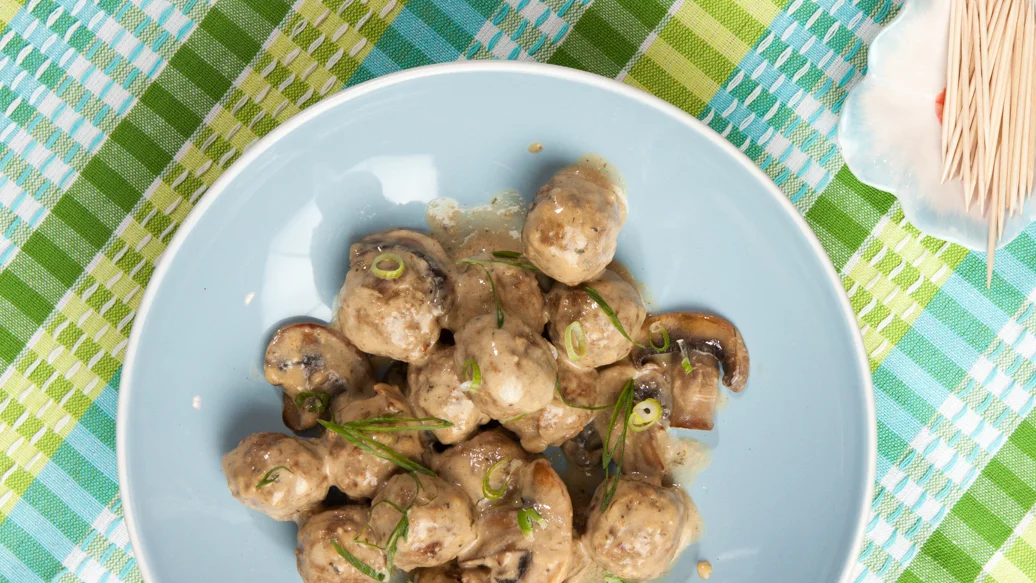 5 hours
8 servings
$2.36/serving
This classic, creamy dish is delicious served over noodles or rice with a liberal sprinkling of parsley or chives.
Ingredients
2 large eggs, beaten
1 cup milk
2 slices bread, crumbled or 1/2 cup dry breadcrumbs
1 tsp allspice (ground)
1⁄4 tsp nutmeg (ground)
2 lbs (900 g) lean ground pork, chicken, turkey or beef
1 tbsp vegetable oil
6 cups sliced mushrooms
1 can (28 oz/385 ml) non-fat evaporated milk
1 cup beef broth
Black Pepper, to taste
3 tbsp all-purpose flour
1 tbsp lemon juice
Preparation
Preheat oven to 375° F (190° C).
Combine eggs, milk, breadcrumbs, allspice and nutmeg in a large bowl.
Add meat and mix well. Roll rounded tablespoons into 1" balls and place on Sheet Pan lined with parchment paper. Bake 15 minutes, then transfer to a slow cooker.
While the meatballs are baking, heat oil in a large pot. Add mushrooms to the pan and cook 10 minutes over medium-high heat until beginning to brown and liquid evaporates.
Add mushrooms, evaporated milk, beef broth and Lemon Dilly Dip Mix to slow cooker. Season with Salt and Pepper. Cover and cook on LOW for 4 hours, or until bubbling.
Whisk flour and 1⁄3 cup cold water and stir into slow cooker. Cover and continue to cook on HIGH for 20 minutes, or until thickened. Stir in lemon juice and serve.
Nutritional Information
Per serving: Calories 460, Fat 27 g (Saturated 9 g, Trans 0 g), Cholesterol 160 mg, Sodium 220 mg, Carbohydrate 15 g (Fibre 1 g, Sugars 9 g), Protein 37 g.