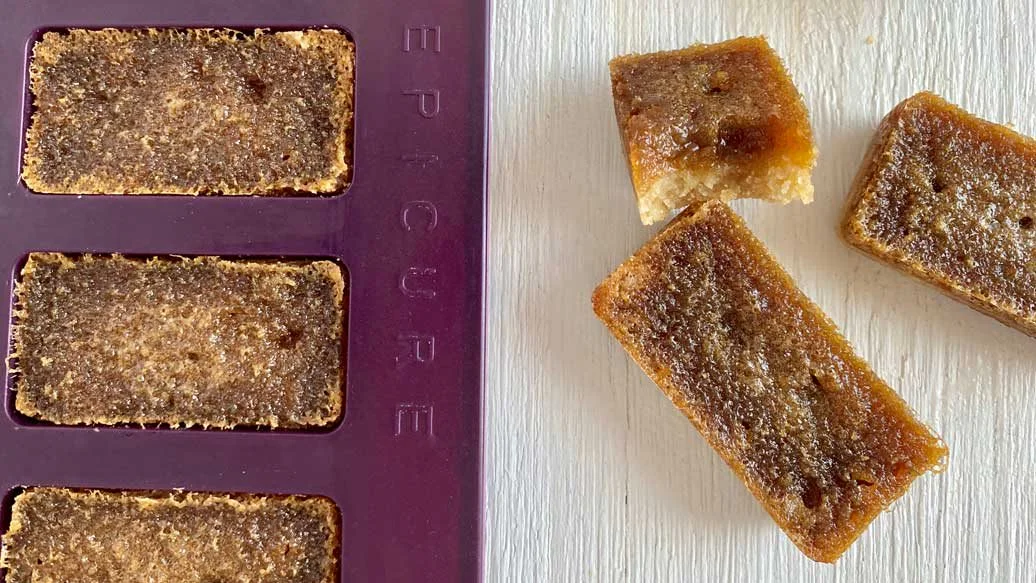 1 hr 20 min
25 bars
$0.25/serving
Ingredients
SHORTBREAD CRUST
1 1⁄4 cups all-purpose flour
1⁄3 cup packed brown sugar
1⁄2 cup unsalted butter, chilled
1 tbsp water
BUTTER TART LAYER
1⁄4 cup unsalted butter
1 pkg True North Butter Tart Mix
1⁄4 cup warm water
1 egg
Preparation
Preheat oven to 375° F. Place Perfect Petites on Sheet Pan. Using a basting brush, brush 25 wells with oil.  
In a large bowl, combine flour and sugar. Cube butter. Using a pastry cutter or your hands, cut in butter until coarse crumbs form. Stir in water. The dough should hold together when you squeeze some gently in your hand.  
Using 4-in-1 Spice Spoon, divide dough between 25 wells in Perfect Petites. The wells will look very full. Using the back of the spoon, press firmly and evenly into wells. The wells should now be about half full.  
Bake 12 min. The crust will have risen and browned slightly. It should resist when pressed gently, but still be a bit soft.  
Meanwhile, prepare butter tart layer. Melt butter in the microwave, about 45 sec. In a bowl, whisk melted butter with mix and warm water. Whisk in egg. 
Transfer mixture to a spouted measuring cup. Pour into wells over pre-baked crust.  
Bake until filling is set (a slight jiggle is OK), 8–9 min. 
Rest in pan until cool enough to handle, about 45 min. Gently pop out bars.  
Store in an airtight container in the fridge until ready to serve.  
Nutritional Information
Per serving (1 bar): Calories 60, Fat 1 g (Saturated 0.4 g, Trans 0 g), Cholesterol 10 mg, Sodium 25 mg, Carbohydrate 13 g (Fibre 0 g, Sugars 8 g), Protein 1 g.