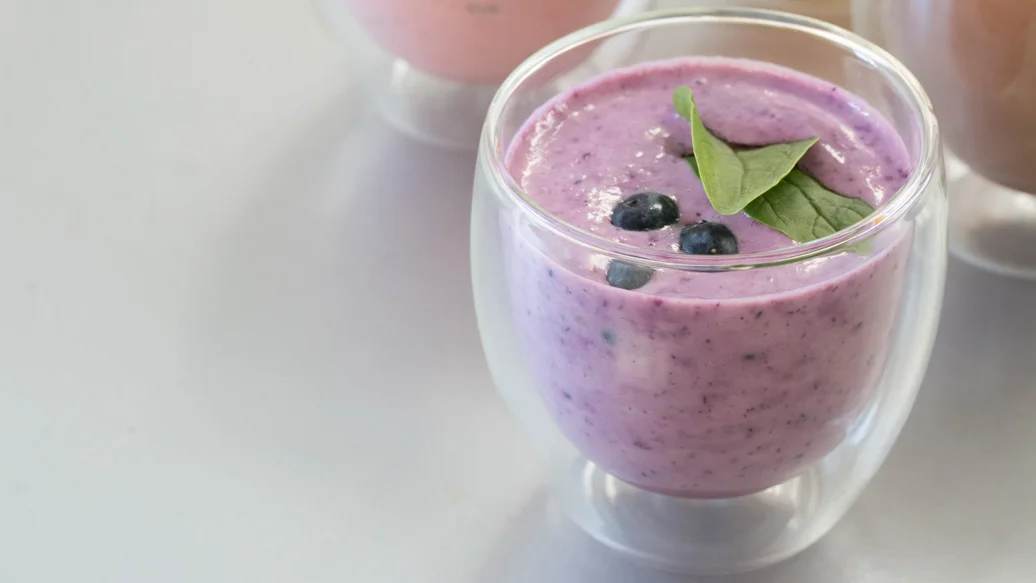 5 min
1 serving
$3.06/serving
A blueberry and greens tea smoothie to help you get up and go.Superfoods for days! Drink your greens with delicious flavours of vanilla and blueberry. Easily change up the flavour of this smoothie with raspberries or strawberries, or try it with Power Up Chocolate Protein Blend. 
Perfectly Balance Your Plate
Serve 1 slice whole-grain toast with 2 tsp nut butter.
Ingredients
1 cup baby spinach or kale
1⁄2 cup frozen blueberries
1⁄4 cup unsweetened coconut water
Preparation
In a blender, combine spinach, protein blend, blueberries, and coconut water. If you like it thicker, add ice cubes; for a thinner consistency, add water. Blend until smooth and pour into a tall glass. 
Nutritional Information
Per serving: Calories 130, Fat 1.5 g (Saturated 0.3 g, Trans 0 g), Cholesterol 0 mg, Sodium 210 mg, Carbohydrate 18 g (Fibre 5 g, Sugars 10 g), Protein 12 g.