Barbecued Bratwurst with Grilled Onions and Peppers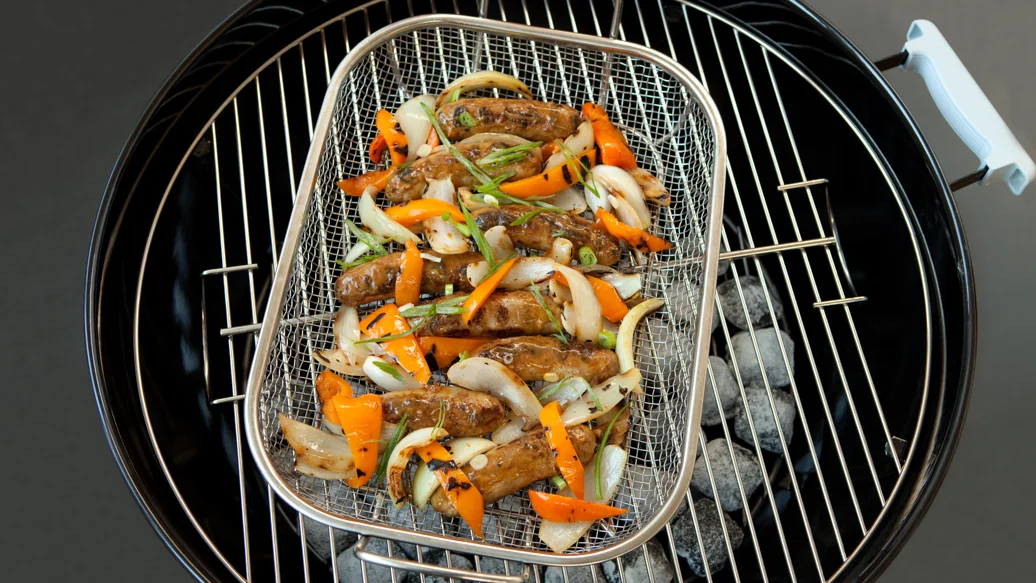 30 - 35 min
8 servings
$2.42/serving
Ingredients
1 tbsp Montreal Steak Rub
2 tbsp olive oil
2 large onions, peeled and cut into 6 wedges
1 bell pepper, sliced
Chili Lime Topper, to taste, optional
8 Bratwurst sausages, or your choice
1⁄4 cup Honey Mustard, or your choice, plus more for spreading
Preparation
In a medium mixing bowl, whisk oil with Rub. Add onion and pepper and toss to coat. Season with Chili Lime Topper.
Preheat barbecue to medium-high.
Place vegetables in a grill pan and begin to grill.
Pierce each sausage with a fork and lay them in the centre of mesh grilling pan. Continue to grill for 10–15 minutes, turning with Grip & Grab and shaking pan often.
Halfway through cooking time, using basting brush, brush sausages with Honey Mustard.
Nutritional Information
Per serving: Calories 330, Fat 6 g (Saturated 5 g, Trans 0 g), Cholesterol 75 mg, Sodium 950 mg, Carbohydrate 6 g (Fibre 1 g, Sugars 2 g), Protein 12 g.