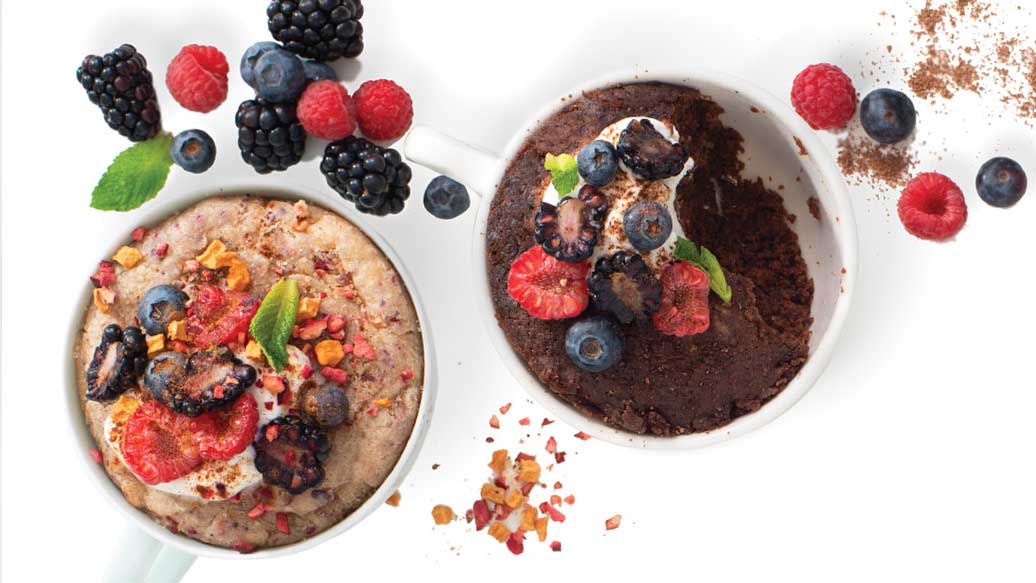 8 min
1 serving
$2.67/serving
Ingredients
3 tbsp all-purpose flour
1⁄4 tsp baking powder
3 tbsp milk or non-dairy beverage
1 tbsp vegetable oil, or coconut oil or butter, melted
1⁄4 tsp vanilla extract (dash)
1 tbsp 2% plain Greek yogurt
Preparation
In a low, wide mug that holds at least 1 cup, combine flour, Summer Berry Dip Mix, and baking powder. Add milk, oil, and vanilla.
Using a fork, gently stir until no lumps remain.
Microwave on high for 45–50 seconds. Let cool 5 min; cake will continue cooking as it cools.
Top with yogurt; garnish with topper. For a punch of green, add fresh mint if you wish.
Nutritional Information
Per serving: Calories 310, Fat 14 g (Saturated 1 g, Trans 0 g), Cholesterol 0 mg, Sodium 100 mg, Carbohydrate 41 g (Fiber 2 g, Sugars 20 g), Protein 5 g.
Tips
It's better to slightly undercook cake so it has a gooey texture rather than end up with a tough, overcooked cake.