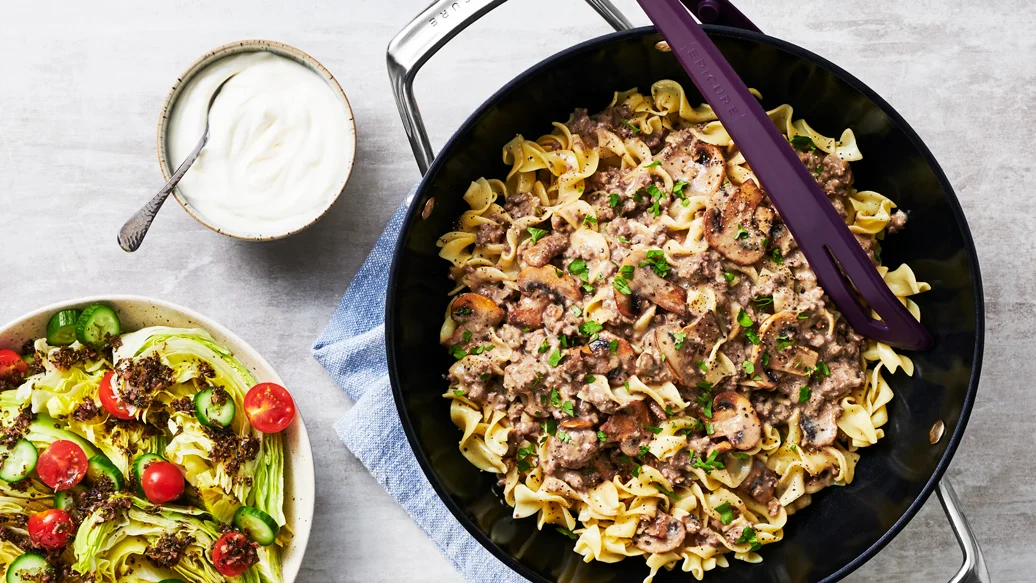 20 min
6 servings
$2.05/serving
Turn Wintry Mushroom Soup Seasoning—with real mushrooms, fire-roasted onions, Hatch chili pepper—into a creamy, comforting sauce. Serve over noodles or rice. Ready in 20 min at under $2.50 per serving!
Perfectly Balance Your Plate
Serve with 2 cups mixed greens and 1 tbsp Epicure Dressing, your choice.  
Ingredients
4 cups uncooked extra broad egg noodles
4 3⁄4 cups water, divided
1 tsp Worcestershire sauce
1 tbsp + 1 tsp oil
1 lb (450 g) lean ground beef or ground meat alternative
1 pkg (7 oz/200 g) sliced mushrooms, about 3 cups
1 cup 2% plain Greek yogurt or sour cream
Preparation
In Multipurpose Steamer, add noodles and 4 cups water. Cover; microwave on high 10 min or until al dente. Once cooked, carefully remove from microwave; drain noodles. 
Meanwhile, in a large bowl, combine seasoning with remaining 3⁄4 cup water and Worcestershire sauce. Set aside. 
In Wok, heat 1 tsp oil over medium-high heat. Crumble in ground beef and brown until cooked, about 4–5 min, using Ground Meat Separator to break up chunks. Remove from wok, including any liquid. 
Heat remaining 1 tbsp oil in wok over medium-high heat; add mushrooms and brown, about 4 min. Return beef and any liquid to wok, then stir in seasoning mixture. Simmer, lowering heat if necessary, 2 min.  
Remove from heat. Stir in yogurt. Serve over noodles or add noodles to wok and stir to combine. 
Nutritional Information
Per serving: Calories 370, Fat 13 g (Saturated 4.5 g, Trans 0.2 g), Cholesterol 95 mg, Sodium 200 mg, Carbohydrate 35 g (Fiber 2 g, Sugars 4 g), Protein 26 g.