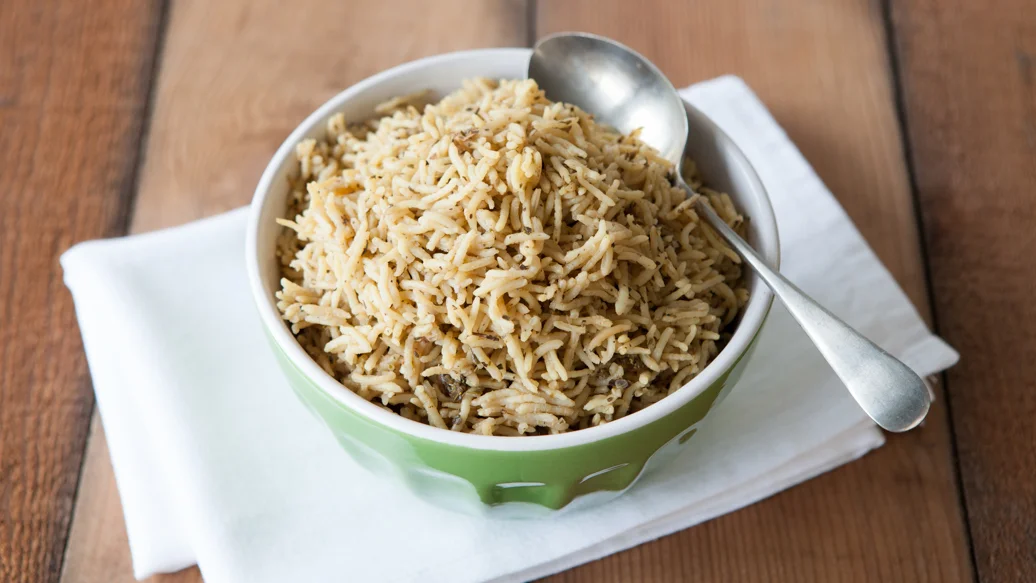 25 - 35 min
4 - 6 servings
$0.57/serving
Delightfully herbed, this rice pairs well with chicken, fish, or even a light curry.
Ingredients
1 tbsp Pink Lady Tea, or tea of your choice
1 tbsp unsalted butter
1 1⁄2 cups long grain rice
Sea Salt, to taste
Black Pepper, to taste
Preparation
Preheat oven to 350° F (175° C).
Steep Tea in Bouillon.
Set Multipurpose Pot - 8 cup over medium heat and melt butter. Add rice, stir, and cook for approximately 1 minute. Add Rosemary Garlic Seasoning and Toasted Onion, and cook for a further 2 minutes. Stir in tea bouillon and bring to a boil. Stir well, cover, and bake in oven until liquid is absorbed and rice is soft, 20–30 minutes.
Fluff with a fork, season with Sea Salt and Black Pepper, and serve warm.
Nutritional Information
Per serving: Calories 220, Fat 2.5 g (Saturated 1.5 g, Trans 0 g), Cholesterol 5 mg, Sodium 45 mg, Carbohydrate 43 g (Fiber 1 g, Sugars 1 g), Protein 5 g.
Tips
Top with chopped green onion and dried cranberries for that extra colour and flavour punch.