Grilled Portobello Burger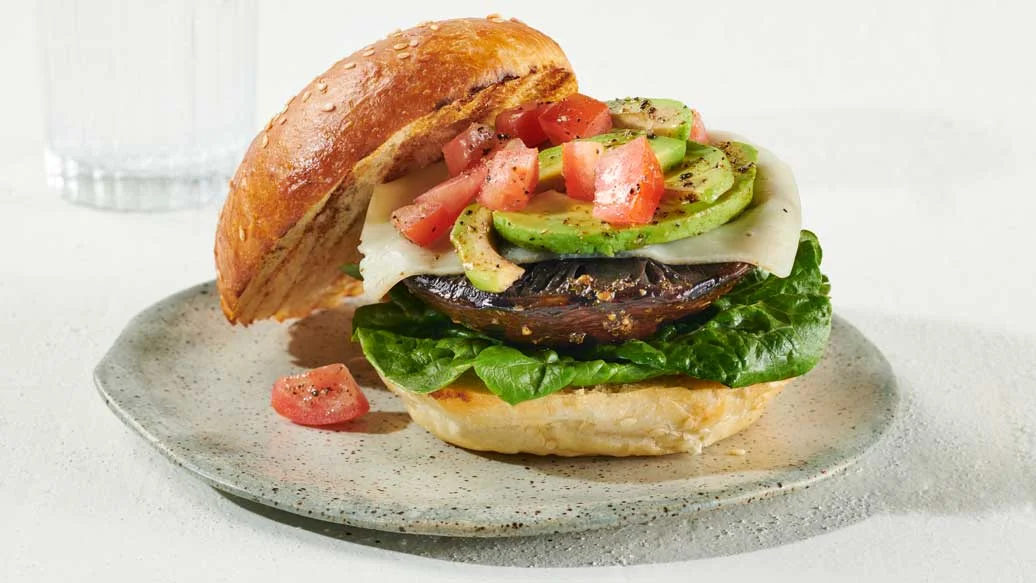 20 min
4 servings
$3.00/serving
Perfectly Balance Your Plate
Serve with 1⁄2 cup Simply Better Baked Beans, or beans of your choice.
Ingredients
3 tbsp balsamic vinegar
2 tbsp olive oil
4 large portobello mushroom caps
4 slices Swiss cheese
4 burger buns
Toppings (optional): diced tomatoes, sliced avocado, lettuce
Preparation
Preheat grill to medium-high heat. Lightly brush with oil.
In a small bowl, whisk together dressing mix, vinegar, and oil. Sauce will be thick.
On Sheet Pan lined with Sheet Pan Liner, lay mushroom caps gill side down. Brush or spread half the sauce on the mushroom caps. Flip caps gill side up, and repeat. Try to get as much sauce as you can in gills. Head to the grill!
Place caps on grill, gill side up. Grill caps, with lid closed, 5–6 min. Flip caps and grill additional 5 min. Flip caps over (gills should be facing up). Add 1 slice Swiss cheese per cap and grill until melted, 1 min. Caps should be tender.
Tuck mushroom caps into buns and add toppings, if desired.
Nutritional Information
Per serving (1 burger): Calories 340, Fat 14 g (Saturated 4.5 g, Trans 0 g), Cholesterol 15 mg, Sodium 320 mg, Carbohydrate 41 g (Fiber 3 g, Sugars 9 g), Protein 13 g.