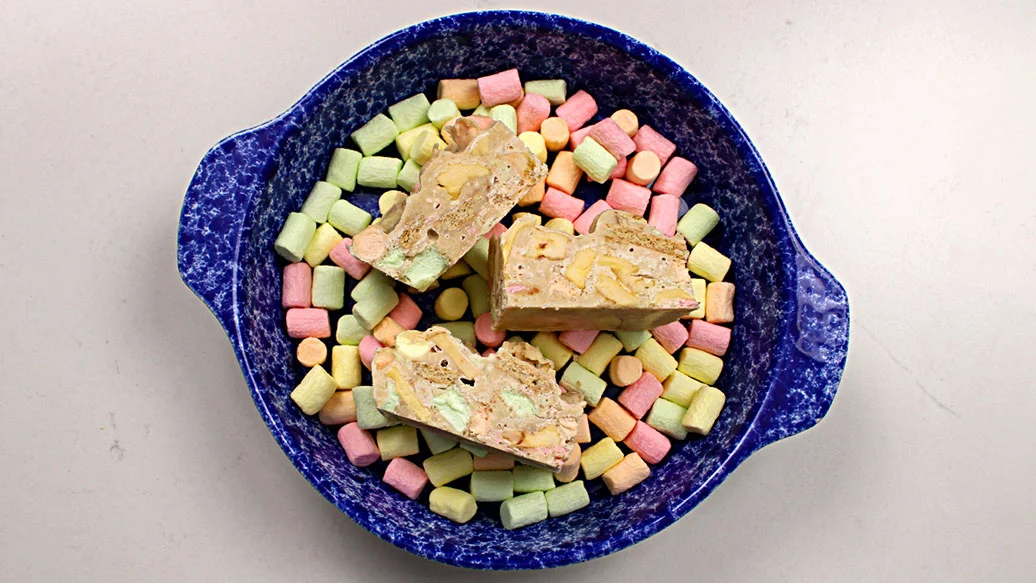 1 hr & 45 min (includes 1 hr 30 min chilling)
16 servings
$0.53/serving
"Rock" your next cookie exchange! Cozy apple pie meets crunchy graham crackers and soft marshmallows. For extra flair, toss in some dried cranberries or chopped pistachios. And don't be afraid swap in your faves for graham crackers: gingerbread snaps or Shortbread Cookies will still deliver that crunch factor.  
Ingredients
3 bars (7 oz/200 g each) white baking chocolate
3 whole graham crackers
3⁄4 cup dried apple rings
1 1⁄2 cups mini marshmallows 
Preparation
Place chocolate in a large microwaveable bowl. Microwave, uncovered, on medium (power 50%), stirring every minute, until melted, about 3–4 min.  
Roughly break up graham crackers. Chop apples into small pieces. Add graham crackers, apples, and spice to melted chocolate, stir to combine. Wait 2 min, then stir in marshmallows. 
Scrape mixture into Square Steamer, spread out into an even layer. Refrigerate 1 hr 30 min–2 hr or until set. Remove from steamer and cut into 16 equal pieces.  
Nutritional Information
Per serving: Calories 240, Fat 12 g (Saturated 7 g, Trans 0 g), Cholesterol 10 mg, Sodium 50 mg, Carbohydrate 30 g (Fiber 1 g, Sugars 28 g), Protein 2 g.
Tips
Look for dried apple rings in the bulk section of your grocery store. You're looking for dehydrated apple pieces that are still a bit chewy, not the crunchy, like apple chips!  
Following Epic Life? Cut serving size in half for a sweet treat to end a meal.