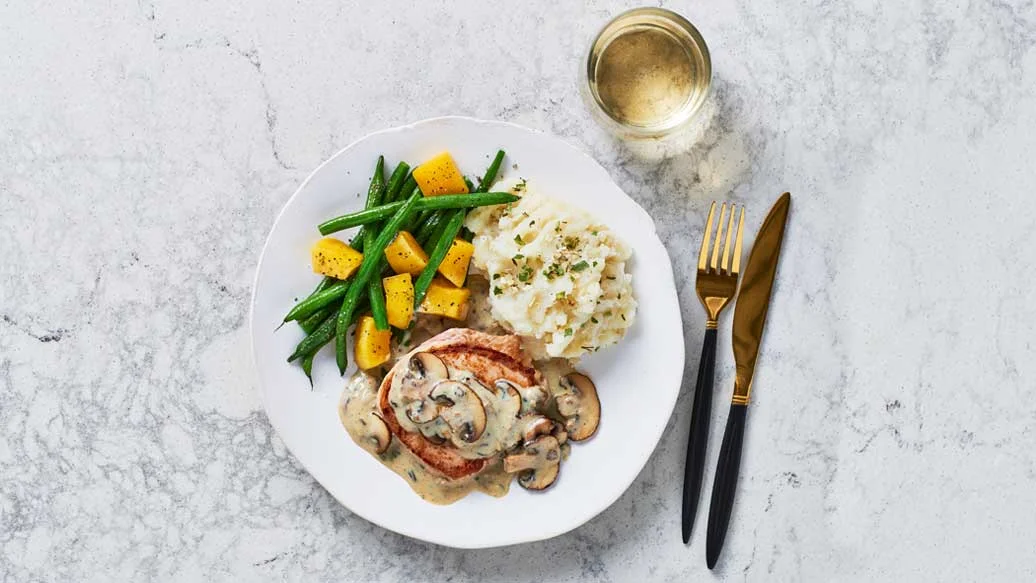 20 min
4 servings
$3.90/serving
Perfectly Balance Your Plate
Serve with 1⁄2 cup mashed potatoes and 1 cup steamed vegetables. 
Ingredients
1 tbsp oil, divided
1 lb (450 g) boneless pork loin roast
Sea Salt, to taste
Black Pepper, to taste
1 pkg (7 oz/200 g) sliced mushrooms, about 2 1/2 cups
1 pkg Wintry Mushroom Soup Seasoning
1 1⁄2 cups milk, your choice
Toppings (optional): coarsely chopped parsley
Preparation
In Wok, heat 1⁄2 tbsp oil over medium-high heat. Meanwhile, slice pork into 4 steaks; season with salt and pepper. Add to pan and fry until browned, 3–4 min per side. Place on a plate; cover and keep warm.
Add remaining 1⁄2 tbsp oil to wok. Add mushrooms and sauté until lightly brown, 3 min.
Meanwhile, in a bowl, whisk together seasoning and milk. Once mushrooms have browned, add milk mixture. Bring to a boil, then reduce heat and return pork to pan. Cover; simmer until meat is cooked through, about 4 min, turning once. 
Divide pork between plates; spoon sauce on top, add parsley if desired.
Nutritional Information
Per serving: Calories 320, Fat 17 g (Saturated 5 g, Trans 0.1 g), Cholesterol 80 mg, Sodium 300 mg, Carbohydrate 13 g (Fibre 1 g, Sugars 1 g), Protein 29 g.
Tips
To get a golden-brown sear on the pork, first pat meat dry with paper towel. When cooking, resist the urge to move it around or flip it too early. It will naturally release from the pan when it's ready (about 3–4 min), then flip and don't fiddle around with it.