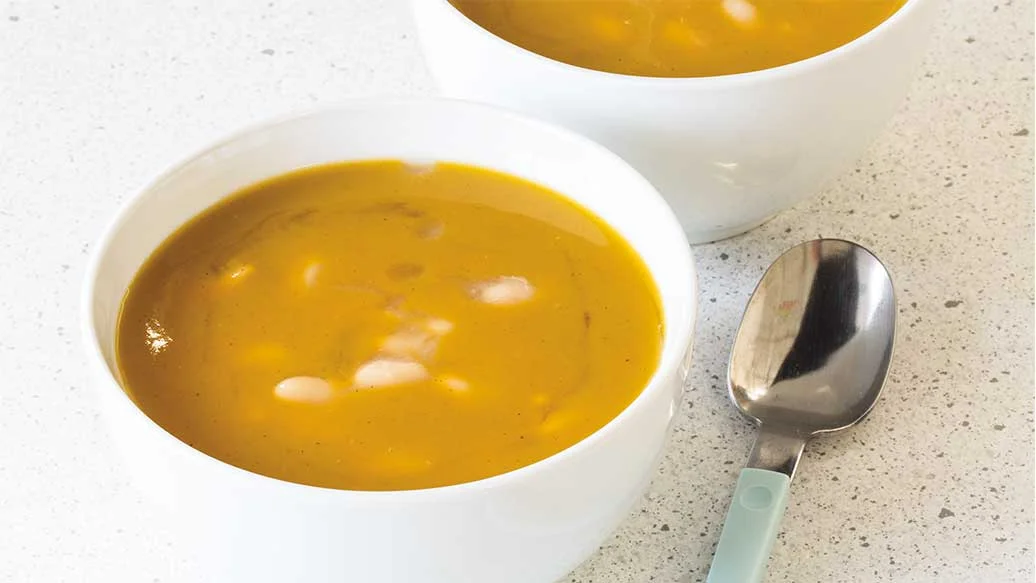 Sweet potatoes, pumpkins, and squash are great sources of vitamin A (beta-carotene) and vitamin C, powerful antioxidants that protect your body's cells from damage.
Perfectly Balance Your Plate
Serve with (or add to soup) 1 serving lean protein and 1⁄2 cup veggies.
Ingredients
1 1⁄2 lbs (680 g) sweet potatoes, squash, or pumpkin, peeled, diced, and steamed
1 tbsp brown sugar
Sea Salt, to taste
1⁄4 cup partly-skimmed evaporated milk or coconut milk
1⁄4 cup prepared Sencha & Jasmine Green Tea Blend, or apple juice
Preparation
In a large pot, combine sweet potatoes, broth, and spice over high heat for approximately 15 min.
In a food processor, purée until smooth, adding enough reserved broth mixture for desired thickness. Add brown sugar.  Season to taste and pulse to combine.
Add evaporated milk and tea. Pulse to incorporate and serve in bowls.
Nutritional Information
Per serving (2 cups): Calories 200, Fat 0.5 g (Saturated 0 g, Trans 0 g), Cholesterol 0 mg, Sodium 180 mg, Carbohydrate 44 g (Fibre 6 g, Sugars 18 g), Protein 6 g.