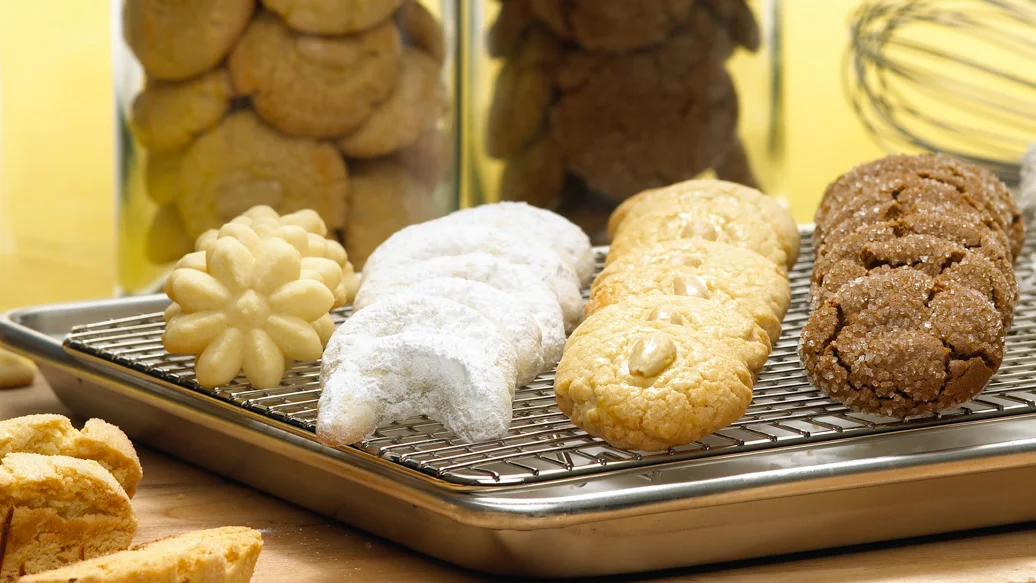 20 - 22 min
48 cookies
$0.13/serving
A touch of Poudre Douce adds an unusual accent to these classic vanilla cookies.
Ingredients
1 cup butter, room temperature
1 cup sugar
2 eggs
2 tsp vanilla extract
1⁄2 tsp Poudre Douce, optional
1⁄2 tsp lemon juice
1⁄2 tsp salt
2 1⁄2 cups all-purpose flour
decorating sugar, optional
Preparation
Preheat oven to 375° F (190° C).
Cream butter and sugar until light and fluffy. Beat in eggs, vanilla extract, Poudre Douce, lemon juice, and salt.
Add flour, beating until soft dough results.
Pack dough into cookie press. Fit with the desired disc design. Press dough out onto ungreased Sheet Pan, spacing cookies 1" apart.
Bake until lightly golden, about 10–12 minutes. Gently transfer cookies to cooling racks. Sprinkle with decorating sugar, if desired.
Store in an airtight container at room temperature for up to 4 days.
Nutritional Information
Per serving (1 cookie): Calories 80, Fat 4.5 g (Saturated 2.5 g, Trans 0.1 g), Cholesterol 20 mg, Sodium 55 mg, Carbohydrate 10 g (Fibre 0 g, Sugars 4 g), Protein 1 g.
Tips
Try to use large eggs for a dough consistency that works well with cookie press discs.