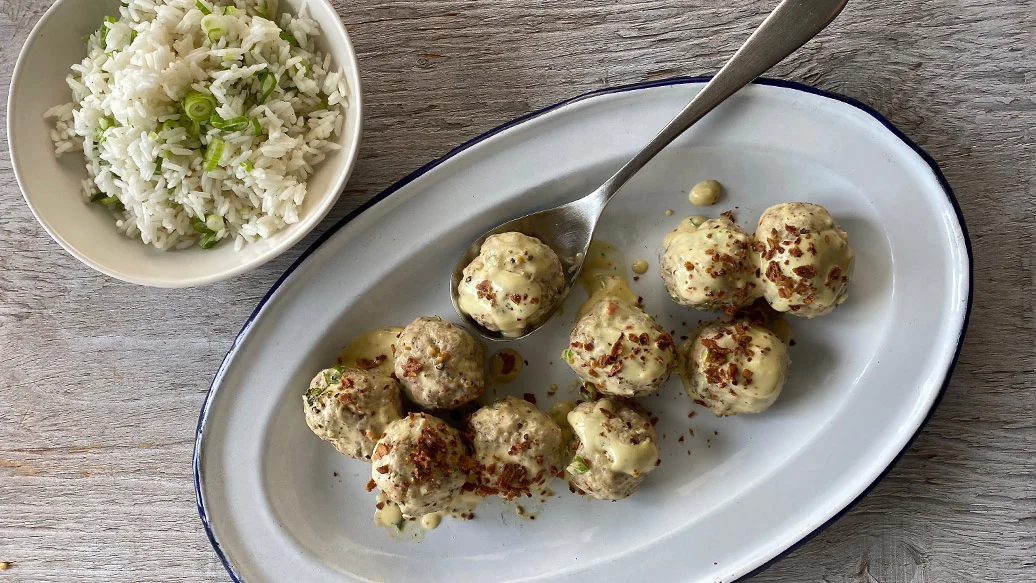 20 min
4 servings
$2.34/serving
Switch things up with chicken meatballs – less saturated fat than beef, better for your heart! Cooked in microwave in under 5 min, thanks to the Multipurpose Steamer–talk about convenience.
Perfectly Balance Your Plate
Serve with 1⁄2 cup rice and 1 cup steamed vegetables.
Ingredients
1 lb (450 g) ground chicken or lean ground beef
1 tbsp water
1⁄4 cup light sour cream
1 tbsp Dijon-style mustard
Toppings (optional): Better Than Bacon Topper
Preparation
In large bowl, using a fork, combine ground meat, seasoning, and water. Form into 16 meatballs (about a scant 2 tbsp each).
Arrange in a single layer in Multipurpose Steamer (it's OK if they touch). Cover and microwave on high, for 4 min or until cooked. Uncover; let sit about 1 min before serving.
Meanwhile, prepare sauce. In a small bowl, whisk together sour cream and mustard.
When meatballs are cooked, carefully drain off liquid from bottom of steamer, reserving 2 tbsp juices. Stir into sauce in bowl. Pour one quarter over meatballs (in steamer); gently stir to coat.
 Serve meatballs with remaining sauce for dipping. Shake on topper, if using.
Nutritional Information
Per serving (4 meatballs): Calories 200, Fat 11 g (Saturated 3.5 g, Trans 0.1 g), Cholesterol 105 mg, Sodium 170 mg, Carbohydrate 5 g (Fibre 1 g, Sugars 2 g), Protein 21 g.