Tofu & Coconut Curry Noodles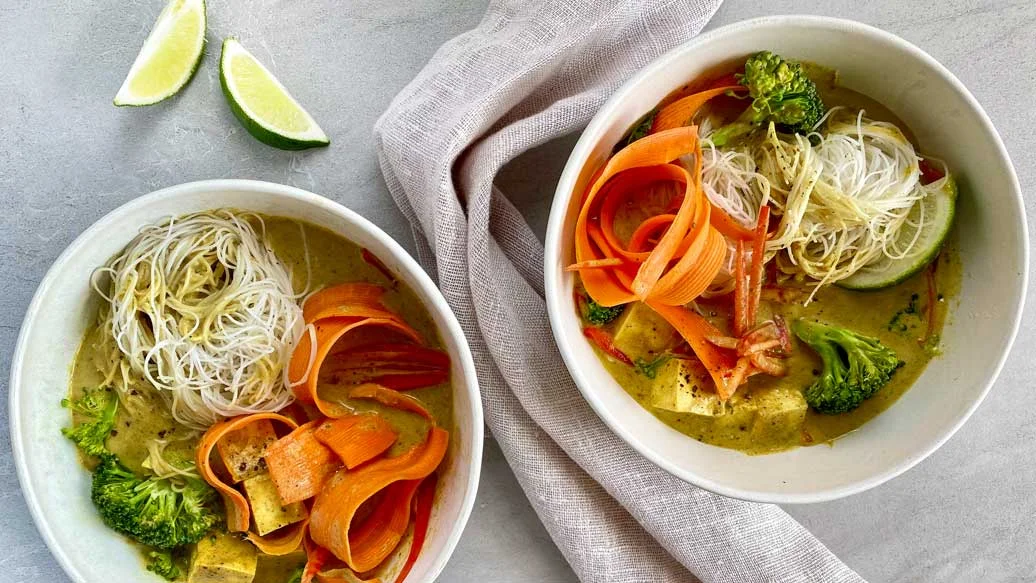 20 min
4 servings
$3.10/serving
A delicious and nourishing plant-based dish with a warming madras-spiced broth.
Perfectly Balance Your Plate
Serve or top with 2 cups leafy greens such as baby spinach or kale.
Ingredients
1⁄2 pkg (14 oz/400 g) vermicelli rice noodles
8 cups boiling water, or enough to cover noodles
1 tbsp coconut oil, melted
1 can (14 oz/398 ml) light coconut milk
1 block (454 g) medium-firm tofu
2 cups broccoli florets, about 1 small crown
1 large carrot
1 large red bell pepper
lime wedges, optional
Preparation
In Round or Multipurpose Steamer, combine rice noodles and boiling water. Ensure noodles are completely submerged—add more boiling water as needed. Stir occasionally until tender, about 5 min.  
Drain noodles, carefully reserving 2 cups cooking liquid. If you don't have 2 cups cooking liquid, top up with hot water. Toss noodles with coconut oil to prevent sticking. 
Meanwhile, in Wok, combine seasoning and coconut milk over medium heat. Add reserved cooking liquid once noodles are drained. Bring to a simmer.  
Drain tofu. Cut into cubes; add to wok and stir to combine.  
Chop broccoli into small pieces; add to wok. Continue to simmer over medium heat, stirring occasionally.  
Peel carrot into ribbons and set aside. Chop carrot core (if too small to peel into ribbons) and add to wok. Thinly slice pepper; add to wok and simmer 2 min.
To serve, ladle into four bowls. Top each bowl with noodles and carrot ribbons. Serve with lime wedges, if desired.  
Nutritional Information
Per serving: Calories 430, Fat 16 g (Saturated 9 g, Trans 0 g), Cholesterol 0 mg, Sodium 300 mg, Carbohydrate 62 g (Fibre 7 g, Sugars 6 g), Protein 20 g.
Tips
This recipe is easily adaptable. Swap veggies for whatever you have on hand—cauliflower, zucchini, mushrooms, or frozen veggies are all great choices!