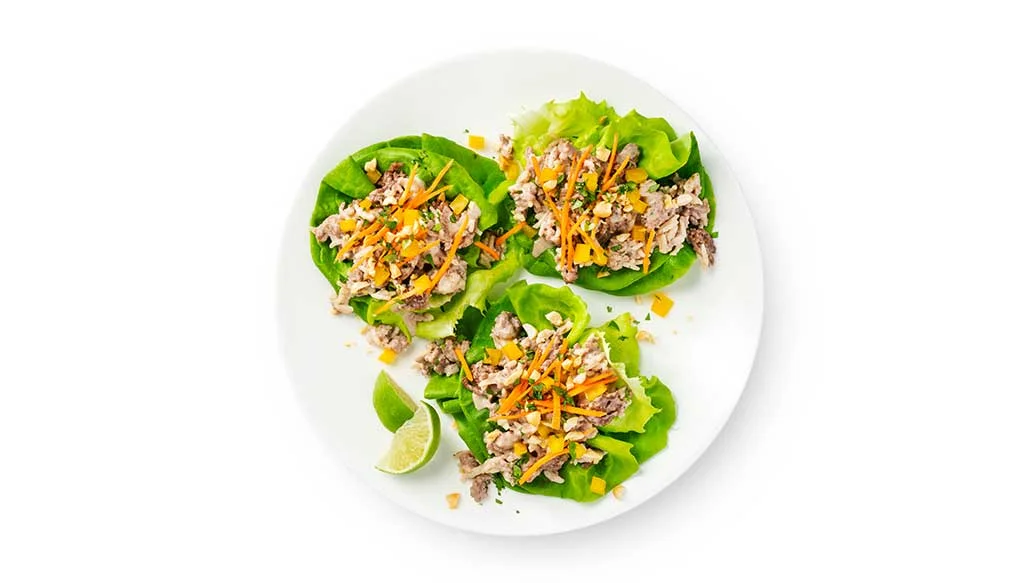 20 min
4 servings
$2.76/serving
Perfectly Balance Your Plate
1 cup sliced vegetables, your choice.
Ingredients
1 cup white rice
1⁄2 pkg Thai Stir-Fry Seasoning
1⁄2 can (14 oz/398 ml) coconut milk, preferably light
2 tbsp natural peanut butter or nut-free pea or seed butter
2 tsp soy sauce
1⁄2 tsp vegetable oil
1 lb (450 g) lean ground beef, chicken, or pork
2 large carrots
1 yellow bell pepper
24–36 lettuce leaves, such as butter or iceberg
Toppings (optional): chopped almonds or peanuts, lime wedges
Preparation
In Multipurpose Steamer, combine rice with 2 1⁄2 cups water. Microwave on high, uncovered, 15 min.
Meanwhile, in bowl, combine seasoning, coconut milk, peanut or nut-free butter, and soy sauce. Set aside.
Heat oil in wok over medium-high heat. Add beef; cook, stirring often, until browned, 5–7 min.
Meanwhile, thinly julienne carrots. Finely dice pepper. Set aside.
Once beef is cooked, stir in reserved sauce. Simmer, stirring occasionally, until most of sauce is absorbed, 2 min.
To serve, form three lettuce cups (using two or three leaves per cup) on each plate; divide rice and beef in each cup. Sprinkle with carrots, peppers, and toppings, if desired.
Nutritional Information
Per serving: Calories 510, Fat 20 g (Saturated 8 g, Trans 0.4 g), Cholesterol 60 mg, Sodium 300 mg, Carbohydrate 53 g (Fibre 4 g, Sugars 5 g), Protein 30 g.
Tips
Make it vegetarian: Swap meat for 4 cups lentils or beans.