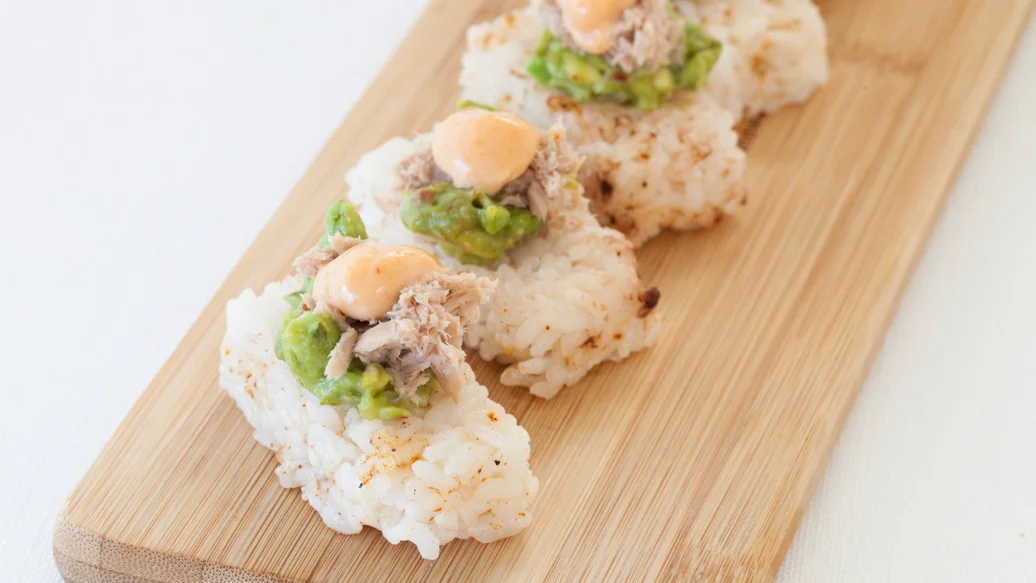 40 min
30 servings
$0.20/serving
With an Epicure Perfect Petites, no tricky sushi rolling is needed!
Ingredients
1 1⁄2 cups sushi rice
3 tbsp rice vinegar
2 tsp sugar
1 can (170 g) light tuna, packed in water
hot sauce, to taste
Preparation
Place rice in a medium sized bowl and cover with cold water. Swirl the rice in the water, pour off the water and repeat two or three times until the water is clear.
Place rice and 1 1⁄2 cups of cold water into a Multipurpose Pot - 8 cup and bring to a boil. Reduce heat to the lowest setting and simmer, covered, for 20 minutes. Remove from heat and let rest, covered, for 20 minutes.
Transfer rice to a bowl. Toss with vinegar, sugar and Taco Seasoning.
Place a Perfect Petites on a Sheet Pan. Divide rice into sections, pressing slightly.
When completely cool, flip Perfect Petites onto the Sheet Pan and twist to pop out rice.
Top rice with dollops of Guacamole and small mounds of tuna. Top with hot sauce to taste.
Nutritional Information
Per serving (1 petite): Calories 60, Fat 1.5 g (Saturated 0.3 g, Trans 0 g), Cholesterol 0 mg, Sodium 20 mg, Carbohydrate 9 g (Fibre 1 g, Sugars 1 g), Protein 2 g.