Teriyaki Beef with Asian Coleslaw for Verrines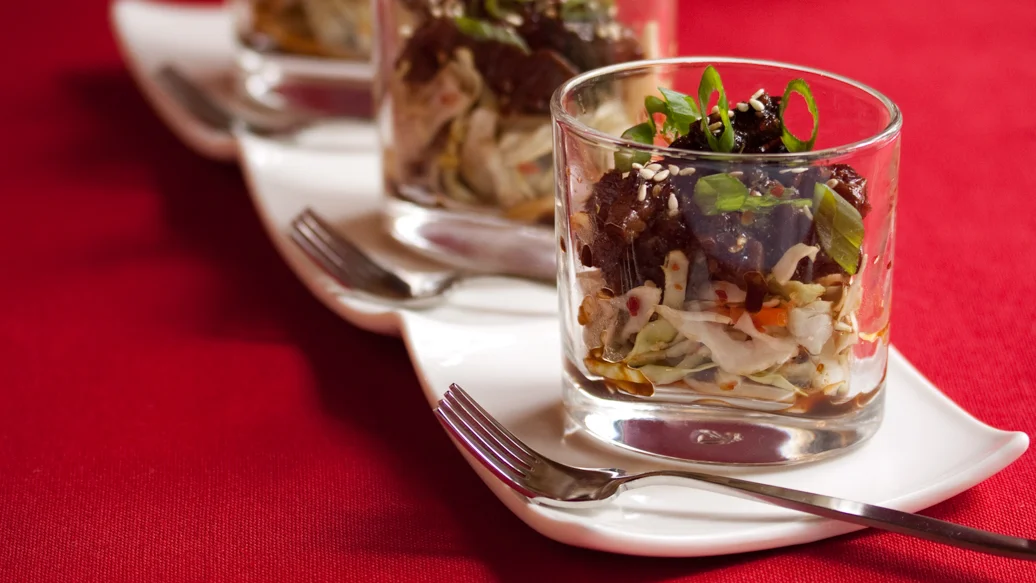 25 min
6 verrines
$0.76/serving
Ingredients
1 cup finely shredded cabbage
1 tbsp red bell pepper flakes
1 - (4 oz/120 g) beef steak, cut into 2" strips
Sea Salt, to taste
Black Pepper, to taste
1 tbsp Teriyaki Dry Glaze
1 tbsp brown sugar
3 tbsp light soy sauce
3 tbsp vinegar
1 tbsp sesame seeds
1 green onion, thinly sliced
Preparation
Gently toss cabbage with red bell pepper. Divide between 6 verrines.
Season steak with Sea Salt and Pepper. Quickly stir-fry in a preheated frying pan over medium-high heat. Remove and set aside.
Whisk together Teriyaki Dry Glaze, sugar, soy sauce and vinegar. Pour into hot pan and bring to a boil. Immediately remove from heat. Return beef to pan, stirring to coat.
Divide beef strips and sauce over cabbage.
Sprinkle with sesame seeds and green onions.
Nutritional Information
Per serving: Calories 0, Fat 0 g (Saturated 0 g, Trans 0 g), Cholesterol 0 mg, Sodium 0 mg, Carbohydrate 0 g (Fibre 0 g, Sugars 0 g), Protein 0 g.