Sylvie's No-fail Cauliflower and Cheese Soufflé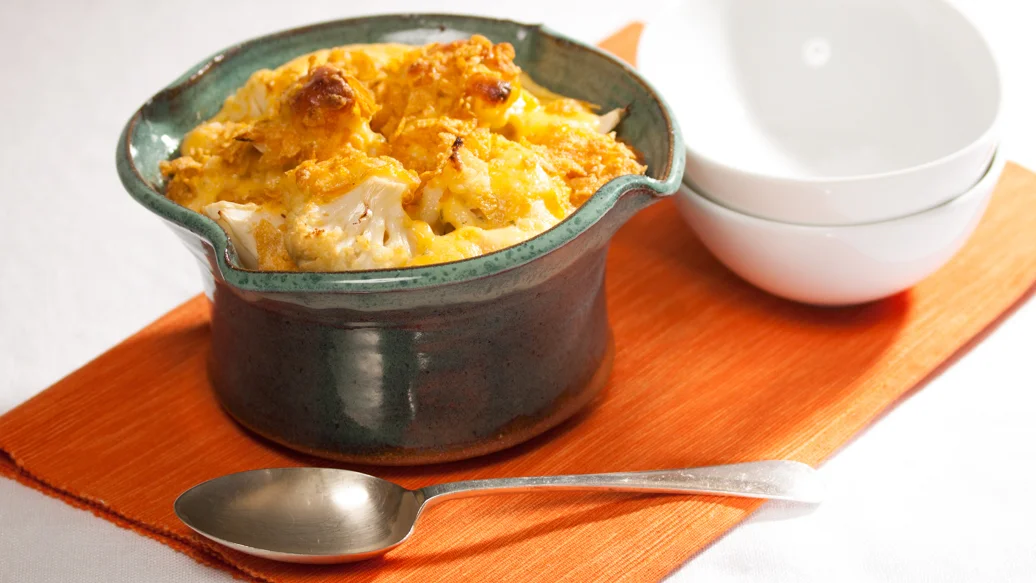 40 min
4 servings
$2.08/serving
This dish is great as a side dish or as a lovely lunch with a salad.
Ingredients
3 cups cauliflower florets
2 tbsp butter
2 tbsp flour
1 cup milk
1⁄4 tsp nutmeg (ground)
Sea Salt, to taste
1 cup grated low-fat cheese
3 eggs
2 tbsp dry breadcrumbs
Preparation
Preheat oven to 350° F (175° C).
Lightly butter 4 petites cocottes or a baking dish, and place on Sheet Pan lined with parchment paper. Set aside.
Steam cauliflower until tender. Divide between cocottes.
In a large microwave-safe measuring cup, melt butter in microwave.
Stir in flour and microwave for 30 seconds.
Stir in milk, 3 Onion Dip Mix and nutmeg. Microwave for 2 minutes. Stir, then cook an additional 2 minutes, or until sauce is thickened.
Season with Sea Salt. Stir in cheese.
In a mixing bowl, whisk eggs until foamy. Slowly whisk in large dollops of cheese sauce to create a smooth sauce.
Pour prepared sauce over cauliflower and sprinkle with breadcrumbs. Bake for 25–30 minutes.
Nutritional Information
Per serving: Calories 230, Fat 13 g (Saturated 7 g, Trans 0 g), Cholesterol 185 mg, Sodium 340 mg, Carbohydrate 13 g (Fibre 2 g, Sugars 2 g), Protein 16 g.