Sylvie's Grilled Flat Bread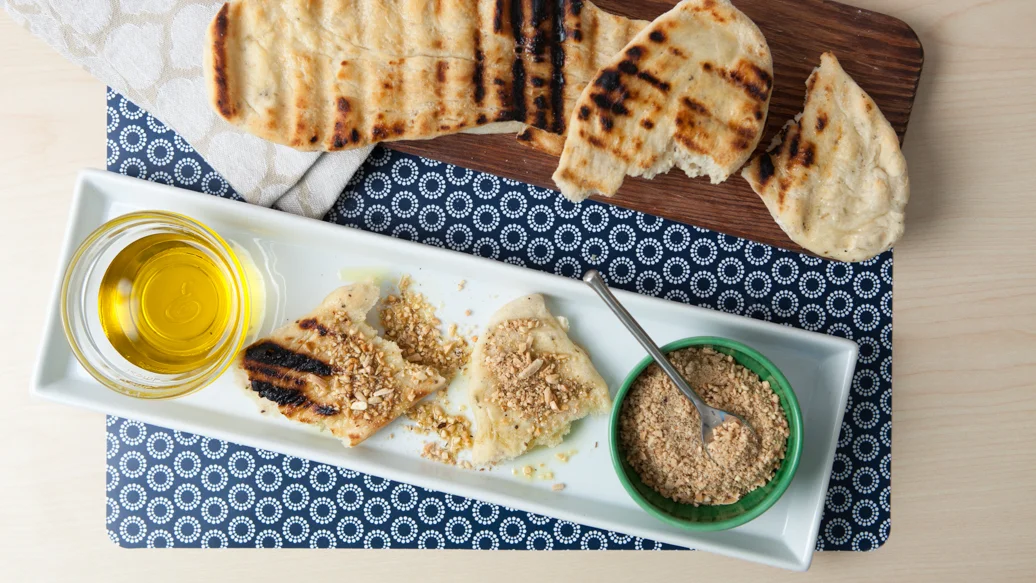 2 hrs
6 servings
$0.45/serving
Ingredients
2 cups white flour
1⁄2 pkg quick rise instant yeast
1 tbsp olive oil
1 tsp Sea Salt
1 cup warm water
coarse sea salt
Preparation
Combine the flour, yeast, olive oil, Rosemary Garlic Seasoning, and salt in a bowl. Mix with just enough warm water to make the dough pliable. Transfer the dough to a floured board and knead until it is smooth and elastic in texture.
Place kneaded dough in an oiled bowl and cover with plastic wrap or a clean tea towel, and allow to stand at room temperature for at least an hour until the dough has doubled in size.
Lightly knead the dough and separate into 6 balls. Flatten the balls and roll out into rounds, or oblong shapes, approximately 4" in diameter, and 1⁄4" thick. Place on Sheet Pan, lined with Sheet Pan Liner. Cover again with plastic wrap or a clean tea towel and let stand until double the thickness.
Heat your BBQ to medium high and brush the bread with olive oil, and coarse sea salt. Place on the grill until light char marks appear. Flip the bread over and shut off the burners except for the rotisserie burner. Close the lid and leave for 2–3 minutes until cooked.
Nutritional Information
Per serving: Calories 180, Fat 3 g (Saturated 0.4 g, Trans 0 g), Cholesterol 0 mg, Sodium 190 mg, Carbohydrate 34 g (Fibre 2 g, Sugars 0 g), Protein 5 g.