Sylvie's Galette des Rois (King's Cake)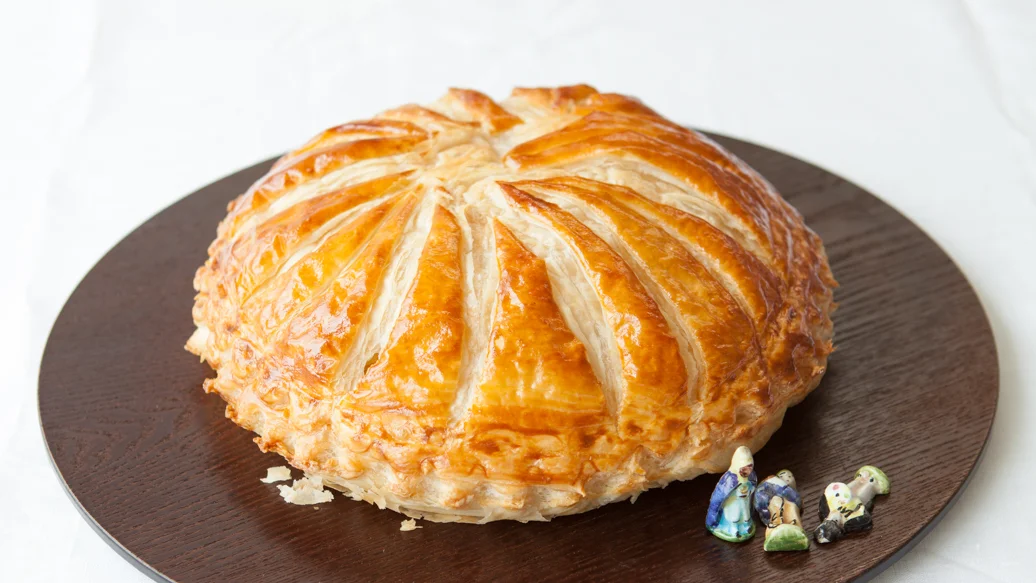 1 hour & 10 min
12 servings
$0.72/serving
Puff pastry and frangipane [FRAN-juh-payn] — a velvety almond cream — gives this traditional cake a delicious richness and texture.
Ingredients
1 pkg frozen puff pastry, defrosted overnight in the refrigerator
1 cup ground almonds
1⁄3 cup butter, at room temperature
1⁄2 cup sugar
1 tbsp all-purpose flour
1 tsp almond extract
1 tsp vanilla extract, or rum
2 eggs
1 bean or small figurine*
Preparation
Prepare frangipane by combining almonds, butter, sugar, flour, almond extract and rum in a bowl. Add one whole egg and one egg white (reserve second yolk for brushing the surface). Beat mixture until a creamy paste forms. Set aside.
Puff pastry comes in 2 pieces. Roll out each piece to make 2 round the size of a pie plate. Place one round on parchment-lined Sheet Pan. Spread with the frangipane, leaving a 3⁄4" border around the edge. Place bean or small figurine in filling.
Using a basting brush, brush the edge with water. Lay the second pastry round on top and press edges together to seal.
Brush top with remaining egg yolk. Use a sharp knife to make a pattern on the surface.
Refrigerate galette for 30 minutes while preheating oven to 400° F (205° C).
Bake for 20–25 minutes, until puffed and golden brown.
Nutritional Information
Per serving: Calories 310, Fat 22 g (Saturated 7 g, Trans 0 g), Cholesterol 50 mg, Sodium 130 mg, Carbohydrate 23 g (Fibre 1 g, Sugars 7 g), Protein 5 g.
Tips
*King's Cake Tradition: King's cake or Epiphany cake is a celebratory treat in many cultures. In France, the smallest child decides who gets each slice, and the lucky one whose slice contains a trinket baked inside (a bean or small figurine) gets to be queen or king for the day. Enjoy creating this charming tradition for your little ones.