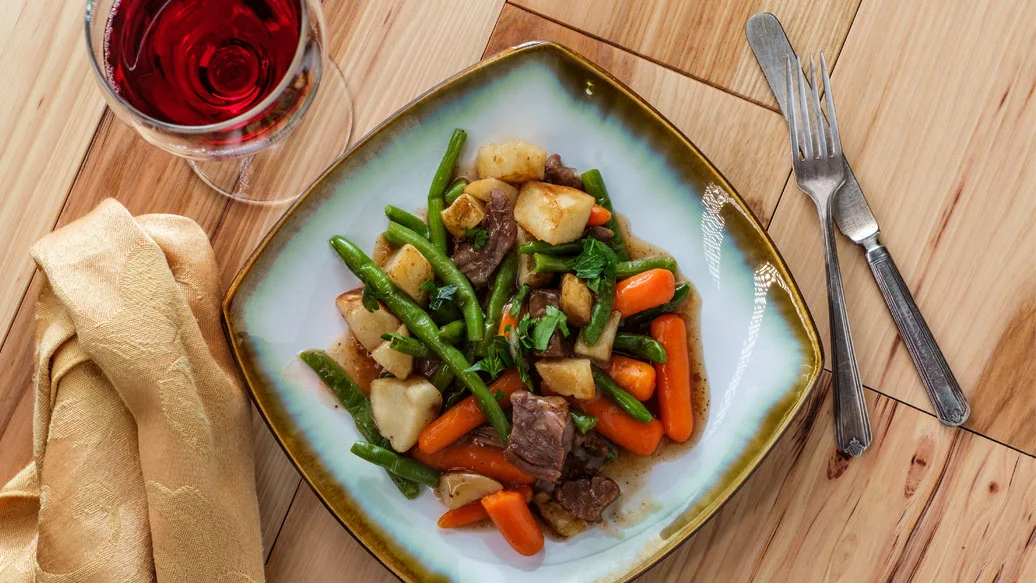 2 hours
6 servings
$2.65/serving
Ingredients
1 lb (450 g) stewing beef cubes
6 juniper berries, crushed with a knife blade
4 sprigs fresh parsley
3 garlic cloves, minced
1 onion, sliced
1 celery stalk (including leaves), sliced
1 bay leaf
1 1⁄2 cups Merlot or other dry red wine
1 tsp black peppercorns, whole
2 tbsp all-purpose flour
1 tbsp vegetable oil
1 tbsp butter
2 tbsp sugar
1⁄2 cup beef broth
2 carrots, coarsely chopped
Sea Salt, to taste
8 oz (225 g) whole button mushrooms, optional
Preparation
In a large bowl, stir beef, juniper berries, parsley, garlic, onion, celery, bay leaf, wine, Beef & Steak Seasoning and Black Peppercorns. Cover and refrigerate to marinate at least 4 hours (preferably overnight).
Remove beef from marinade and place in a bowl. Sprinkle with flour and stir to coat. Strain marinade. Reserve onion, bay leaf and celery.
Working in batches, brush Wok or frying pan with oil and brown meat over medium-high heat. Remove pieces to a bowl as they are done.
When all beef is browned, melt butter in wok or frying pan over medium-high heat. Add sugar and stir often until it is a deep nutty brown. Stir in reserved marinade, onion, bay leaf, celery and beef broth.
Bring to a boil, then add beef, carrots and Sea Salt. Reduce heat to medium-low. Cover and simmer, stirring occasionally, for about 1 1⁄2 hours, until beef is tender. Stir in mushrooms for the last 15-20 minutes of cooking.
Serve with boiled potatoes.
Nutritional Information
Per serving: Calories 320, Fat 12 g (Saturated 4.5 g, Trans 0.1 g), Cholesterol 65 mg, Sodium 80 mg, Carbohydrate 15 g (Fibre 2 g, Sugars 7 g), Protein 27 g.
Tips
For best results, marinate beef overnight before cooking. Skip it if you're time-pressed.
Make it a Big Batch: Double the recipe and cook in a slow cooker.