Sylvie's Batbout Moroccan Pita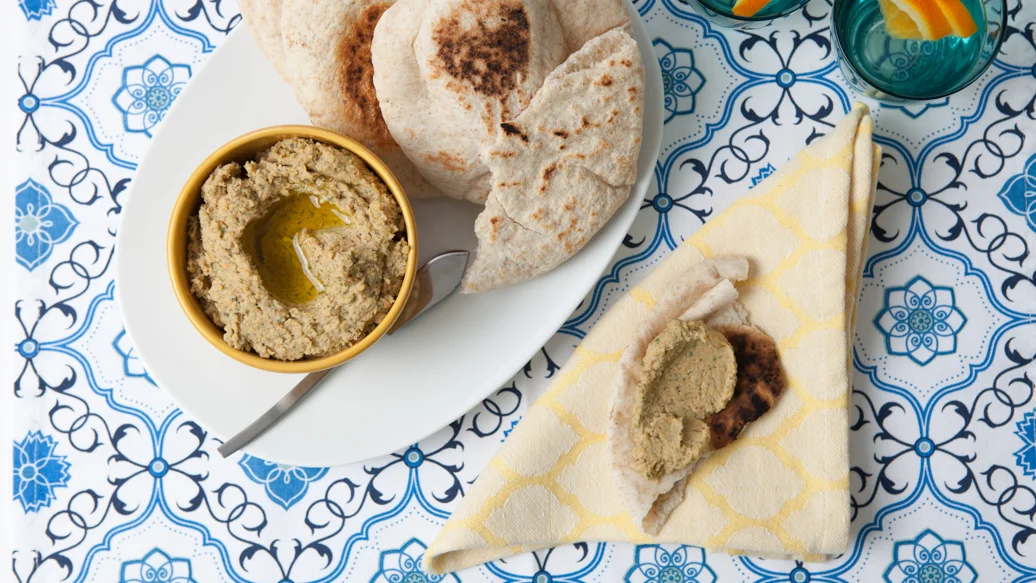 1 hr
16 small pitas
$0.30/serving
Make and freeze batches of pita ahead of time. Re-warm later in the oven or on the grill and serve with hummus.
Ingredients
1 tbsp active dry yeast
2 cups water (approximate)
2 tbsp + 1 tsp sugar
4 cups white flour
2 cups semolina and/or wheat flour
2 tsp Sea Salt
3 tbsp vegetable oil
Preparation
Activate the yeast by mixing it with 1⁄4 cup of warm (not hot) water and 1 tsp of sugar. Set aside the mixture until it's frothy, about 5–10 minutes.
Blend the flours, Dip Mix, remaining sugar and Sea Salt in a mixing bowl. Add the yeast mixture, oil, and remaining water, and mix to form a dough.
The dough should be soft but not sticky. If it's too sticky to work with, add a little flour, 1 tbsp at a time. (Remember the dough will absorb a bit more flour if you knead it by hand.) If the dough feels a bit stiff, work in additional water, 1 tbsp at a time.
Knead the dough in a mixer with a dough hook, or by hand on a lightly floured surface, about 10 minutes or until smooth and elastic.
Divide the dough into smooth balls and leave them to rest, covered, on a lightly floured surface for about 10 minutes.
Roll out each ball into a thin circle, about 1⁄8" thick. Set the rolled-out dough on a clean, dry towel and cover. Leave to rise for about 1–1 1⁄2 hours.
Preheat a very lightly oiled cast iron skillet or non-stick pan over medium heat. Cook the Batbout, turning several times, until golden-brown on both sides. The browning will be a bit uneven since the bread puffs up as it cooks, and that's okay.
Transfer the cooked Batbout to a cooling rack to cool. It's okay to stack them while they're warm.
Nutritional Information
Per serving: Calories 200, Fat 3 g (Saturated 0.3 g, Trans 0 g), Cholesterol 0 mg, Sodium 280 mg, Carbohydrate 37 g (Fibre 3 g, Sugars 2 g), Protein 6 g.
Tips
Batbout will keep fresh for two days at room temperature. They freeze well, and can be heated in a microwave directly from the freezer. Just be careful not to overheat them or they'll dry out.