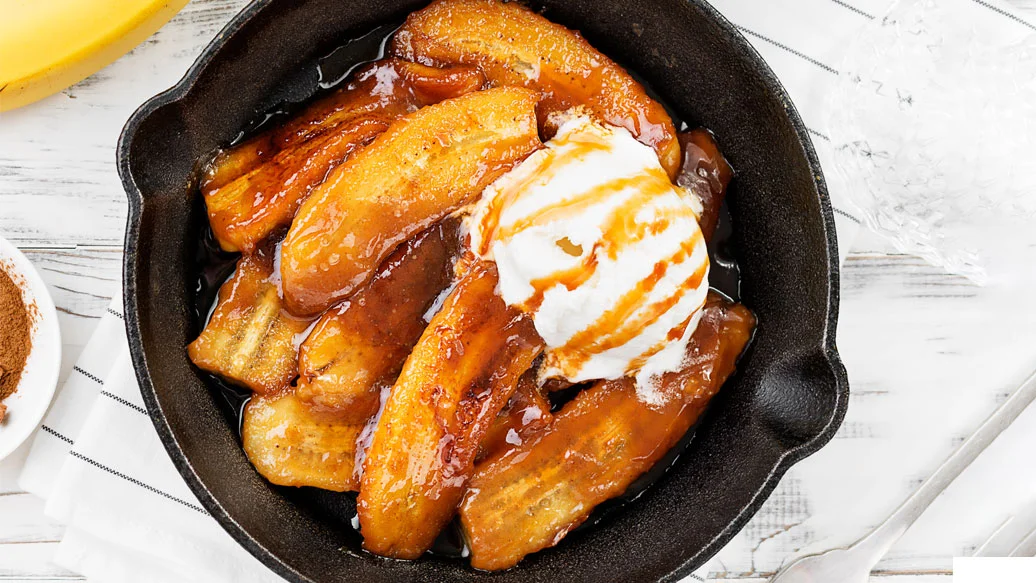 20 min
4 servings
$1.50/serving
Sylvie's rendition of her favourite New Orleans dessert. So easy and yummy – perfect when you need to come up with a quick dessert with only a few bananas and what's in the pantry.
Ingredients
1⁄4 cup butter
2⁄3 cup dark brown sugar
1⁄4 cup rum
1 1⁄2 tsp vanilla extract
3 bananas, each peeled and sliced lengthwise, then in half
1⁄4 cup coarsely chopped walnuts
4 scoops vanilla ice cream
Preparation
In a large frying pan, melt butter over medium heat.
Stir in sugar, rum, vanilla extract, and Cinnamon. When mixture begins to bubble, place bananas and walnuts in pan. Cook for 1-2 minutes, until bananas are hot.
Serve immediately over vanilla ice cream.
Nutritional Information
Per serving: Calories 460, Fat 18 g (Saturated 8 g, Trans 0 g), Cholesterol 35 mg, Sodium 120 mg, Carbohydrate 67 g (Fibre 3 g, Sugars 56 g), Protein 4 g.