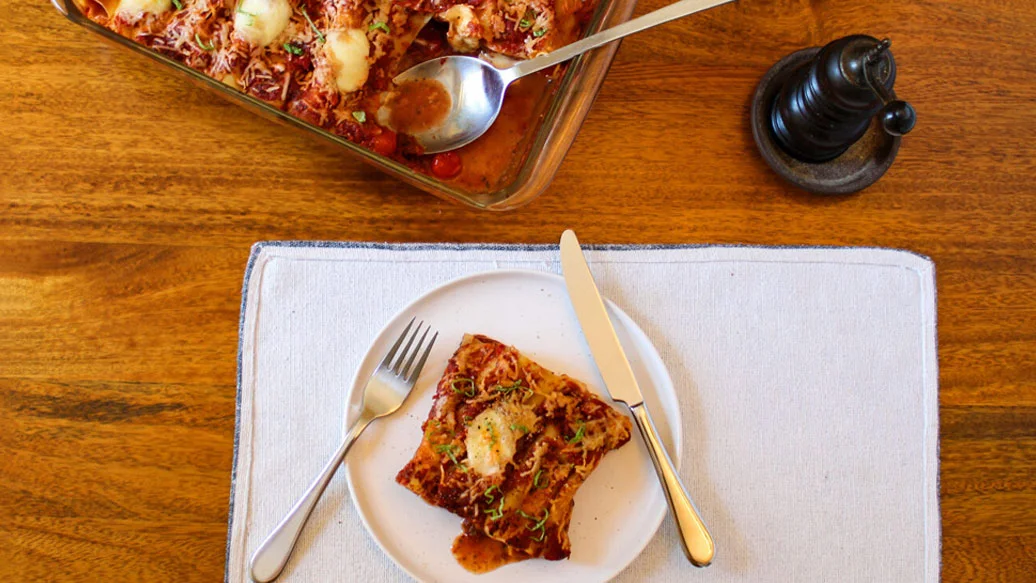 50 min
6 servings
$3.06/serving
Every forkful is like a warm hug from Nonna! Look for "mini mini" bocconcini cheese balls at the grocery store—no, it's not a typo! It's the size that'll work best here. Can't find 'em? Check out the Tip.
Perfectly Balance Your Plate
This is a perfectly balanced plate.
Ingredients
1 pkg (9 oz/250 g) cannelloni pasta
1 1⁄2 pints (9 oz/250 g) cherry tomatoes, about 3 cups
1 1⁄2 containers (7 oz/200 g each) mini mini bocconcini
1⁄2 cup grated Parmesan cheese
Preparation
Preheat oven to 350° F. 
Stuff uncooked cannelloni noodles with tomatoes and bocconcini, one at a time in an alternating pattern. 
Line a 9x13" oven-safe baking dish with a 1 cup sauce. Arrange stuffed cannelloni over sauce and top with remaining 3 cups sauce and Parmesan. 
Bake 45 min, or until pasta is softened and cheese is golden-brown.  
Nutritional Information
Per serving: Calories 470, Fat 21 g (Saturated 12 g, Trans 0.1 g), Cholesterol 65 mg, Sodium 490 mg, Carbohydrate 47 g (Fibre 6 g, Sugars 9 g), Protein 23 g.
Tips
To check if the noodles are cooked, carefully poke them with the tip of a knife to check the tenderness. 
Be sure and get cherry tomatoes and bocconcini balls that are going to fit into your cannelloni noodles. If it's difficult to find the right size of ingredients, try manicotti noodles instead—they're a little bigger!