Steamed Teriyaki Salmon with Spinach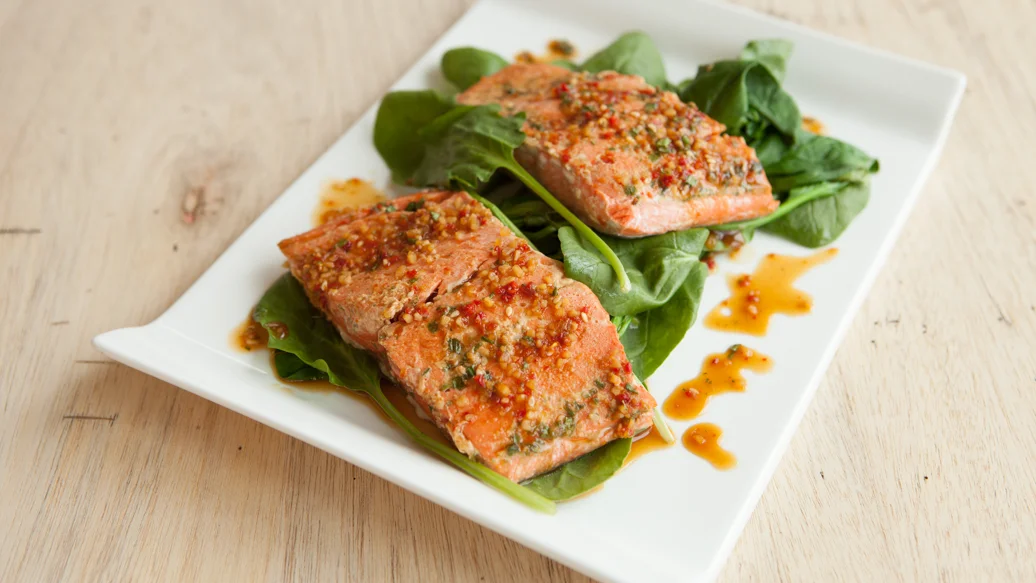 27 min
4 servings
$3.25/serving
Fish in a flash – an elegant, healthy dinner that's full of flavour!
Ingredients
4 (6 oz/110 - 170 g) salmon fillets
1 recipe prepared Teriyaki Dry Glaze, sauce (see label)
4 cups fresh spinach, washed and drained
freshly squeezed lemon juice, to taste
Preparation
Marinate salmon in Teriyaki Sauce for a minimum of 15 minutes, or refrigerate for up to 1 hour.
Fill Wok with about 3" of water and bring to a rolling boil. Place spinach in a bamboo steamer and top with salmon.
Cover steamer with lid and place snugly inside Wok. Steam over boiling water for 8–10 minutes, or until fish flakes easily with a fork.
Squeeze lemon juice overtop before serving. Salmon is a good source of heart-healthy omega-3 fats and Vitamin D.
Nutritional Information
Per serving: Calories 200, Fat 7 g (Saturated 1 g, Trans 0 g), Cholesterol 60 mg, Sodium 350 mg, Carbohydrate 7 g (Fibre 2 g, Sugars 4 g), Protein 25 g.
Tips
Serve with steamed brown rice.