Stacked Turkey Tortilla Casserole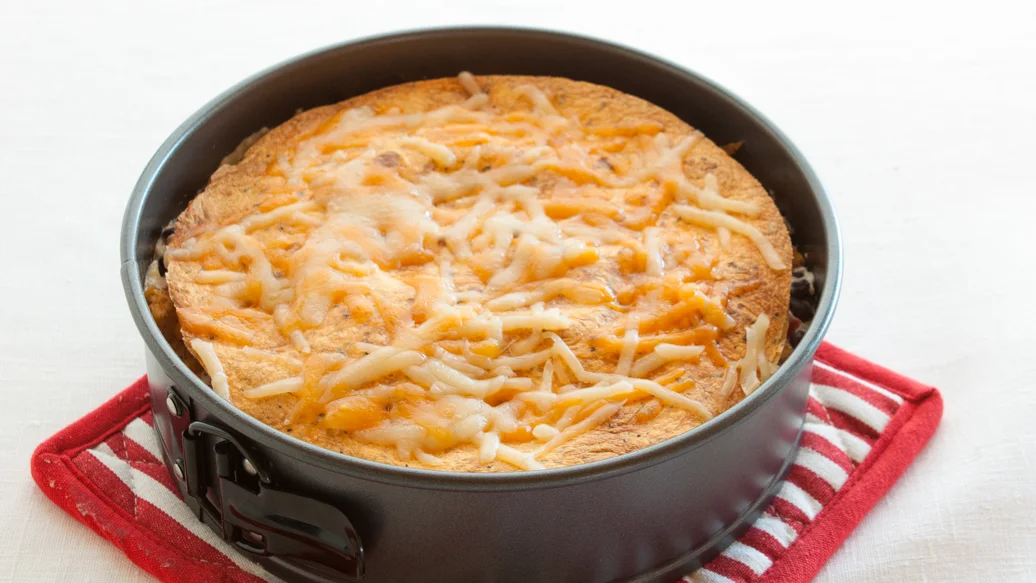 30 min
8 servings
$3.40/serving
A fun, easy, tasty recipe to transform turkey leftovers into another great family meal. 
Perfectly Balance Your Plate
Serve with 1 cup mixed veggies. 
Ingredients
1 container (8 oz/226 g) spreadable light cream cheese
2 cups low-fat cottage cheese
4 cups diced cooked turkey
2 tomatoes, diced
1 tsp Minced Garlic
4 large whole-wheat or flavoured tortillas
1 can (14 oz/398 ml) black or kidney beans, drained and rinsed
1 cup grated low-fat cheese
Preparation
Preheat oven to 400° F. 
Stir cream cheese and cottage cheese with dip mix. 
Toss turkey with seasoning. In a separate bowl, stir tomatoes with garlic. Spray bottom and inside ring of a cheesecake pan with oil. 
Spread 1 tortilla with 1⁄3 cheese mixture, then place in cheesecake pan. Layer with 1⁄3 tomato mixture, 1⁄3 turkey mixture and 1⁄3 beans. Sprinkle with 1⁄4 cup cheese. Top with another tortilla and repeat layering. Last layer should be tortilla topped with remaining 1⁄4 cup cheese. 
Bake for 10–15 min until heated through and cheese is melted. For easier serving, let stand 15 min before cutting. 
Cut into wedges and place on plates. Ladle marinara sauce over top. 
Nutritional Information
Per serving: Calories 310, Fat 12 g (Saturated 7 g, Trans 0 g), Cholesterol 50 mg, Sodium 480 mg, Carbohydrate 25 g (Fibre 4 g, Sugars 6 g), Protein 24 g.