Spinach & Artichoke Pull-Apart Bread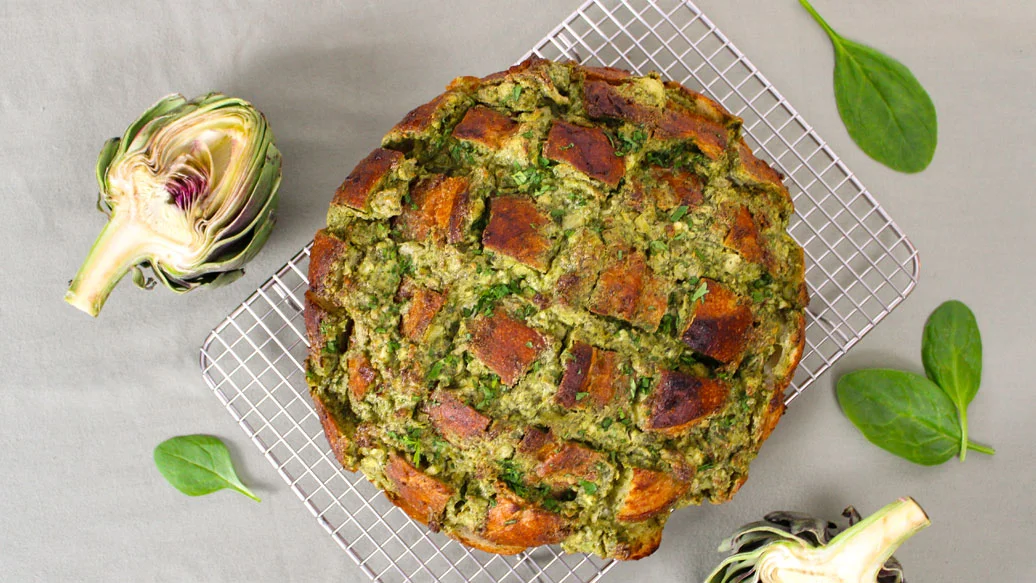 25 min
12 servings
$1.06/serving
Heading into the holiday season, it's time to indulge in a little foodie fun. This isn't your everyday appy; it's a cozy and gooey party starter that screams, "Let's have a good time!" Prep the dip ahead and store in the fridge or freezer; when it's time to entertain, this'll be a breeze to put together.  
Ingredients
1 can (14 oz/398 ml) artichoke hearts, drained and rinsed
1 brick (8 oz/250 g) cream cheese, softened
1 cup mayonnaise
1 loaf (1 lb/450 g) bread
1⁄4 cup unsalted butter, melted, divided
Topping (optional): chopped, fresh parsley 
Preparation
Preheat oven to 400° F. Line Sheet Pan with Sheet Pan Liner.  
Finely chop artichoke hearts. In a bowl, combine chopped artichoke hearts, hot dip mix, cream cheese, and mayonnaise.  
Cut bread into a grid pattern without cutting all the way through the loaf; leave about an inch uncut at the bottom.  
Pry apart bread squares; brush 3 tbsp butter into the crevices and on top of bread. Spoon dip into the crevices so they are very full. Drizzle or brush remaining 1 tbsp butter on top of loaf. 
Bake 15–20 min, until golden. Sprinkle on parsley, if desired. 
Nutritional Information
Per serving: Calories 350, Fat 25 g (Saturated 9 g, Trans 0.2 g), Cholesterol 40 mg, Sodium 490 mg, Carbohydrate 25 g (Fibre 3 g, Sugars 3 g), Protein 7 g.