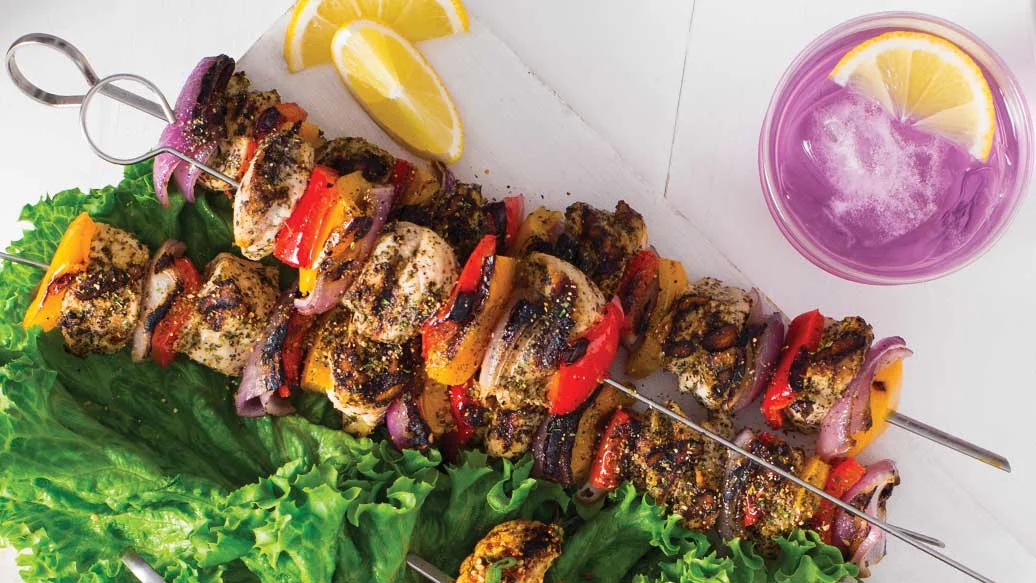 20 min
4 servings
$3.11/serving
One of our favourites! Kebabs are a summer staple and Greece's most popular street food grilled on a skewer – the easiest way to get your protein and veggies grilled quickly. A delicious, healthy meal made in minutes.
Perfectly Balance Your Plate
Serve with 1 grilled pita, 1 cup veggies, and 1⁄4 cup Dillicious Tzatziki.
Ingredients
1 lb (450 g) boneless, skinless chicken breast
1 tbsp olive oil
2 bell peppers
1 small red onion
Preparation
Preheat grill to medium high.
Cut chicken into 1" cubes. In bowl, combine seasoning and oil. Add chicken; stir to evenly coat.
Cut peppers and onion into 1" cubes.
Thread meat and vegetables onto 12" metal skewers.
Place skewers on grill; rotate often until lightly charred and chicken is cooked through, 8–10 min.
Arrange on a large platter.
Nutritional Information
Per serving: Calories 190, Fat 7 g (Saturated 1 g, Trans 0 g), Cholesterol 85 mg, Sodium 105 mg, Carbohydrate 6 g (Fibre 1 g, Sugars 3 g), Protein 26 g.
Tips
Let chicken marinate for 15 min before grilling to absorb flavours.