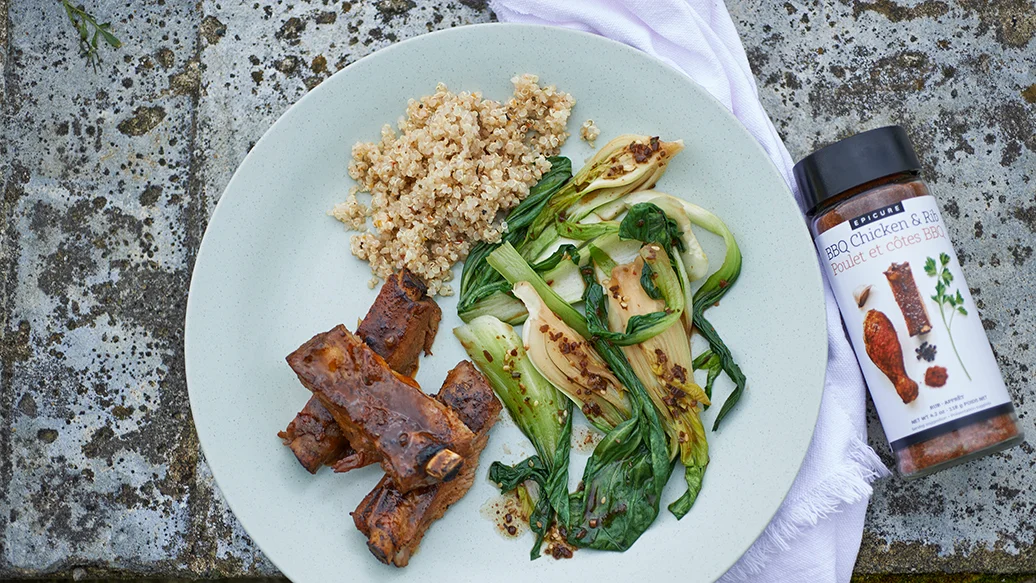 1 hr & 30 min
4 servings
$2.50/serving
Perfectly Balance Your Plate
Serve with 2 cups lightly steamed vegetables and 1 cup grains.
Ingredients
1 cup water
2 lbs (900 g) baby back ribs
1⁄4 cup BBQ Chicken & Rib Rub, divided
2 tbsp oil
Preparation
Preheat oven to 300° F (150° C).
Liberally shake 2 tbsp BBQ Chicken & Rib Rub on both sides of ribs. Rub in if desired.
Place a cooling rack on a Sheet Pan and add water. Place ribs on top.
Tightly cover Sheet Pan with foil and steam in oven for 1 1⁄2 hours. Remove and drain off any liquid.
Preheat barbecue to medium-high.
Combine remaining BBQ Chicken & Rib Rub with oil and liberally brush both sides of ribs. Grill for 4–5 minutes per side.
Nutritional Information
Per serving: Calories 490, Fat 40 g (Saturated 13 g, Trans 0 g), Cholesterol 130 mg, Sodium 730 mg, Carbohydrate 5 g (Fibre 2 g, Sugars 1 g), Protein 28 g.
Tips
To reduce steaming time, steam ribs in the microwave. Place coated ribs in a Multipurpose Steamer and microwave on high, with lid on, for 8–10 minutes prior to grilling.