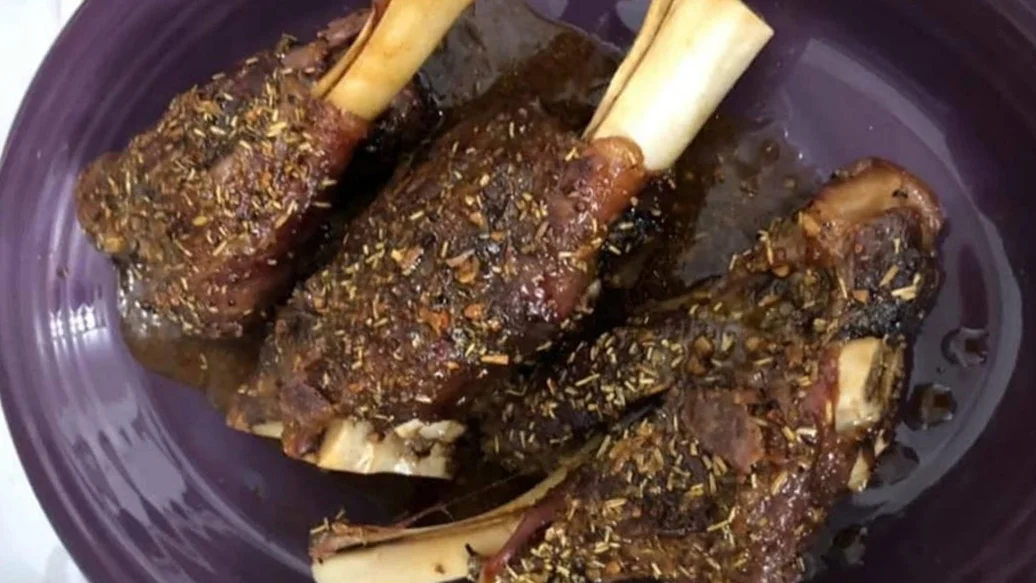 3 hours
8 servings
$4.68/serving
Thank you, Connie Kibyuk Cribb, for this recipe!
Perfectly Balance Your Plate
Serve with 1 cup cooked grains and 2 cups leafy greens with 1 tbsp Epicure Dressing.
Ingredients
4 lamb shanks
2 tbsp olive oil
Sea salt, to taste
Black Pepper, to taste
Preparation
Preheat oven 450° F.  
Place shanks in a roasting pan just large enough to fit them in one layer and rub with oil.  
Season generously with salt and pepper.  
Roast for 20 min until nicely browned. Remove from the oven and decrease temperature to 325° F. Sprinkle with Rosemary Garlic Seasoning, to taste.  
Wrap pan very tightly with several layers of heavy-duty aluminum foil. Try to get as tight a seal as possible. Return to the oven.  
Roast the lamb for an additional 2 hrs. Resist the temptation to open the foil and check on it until the 2 hrs are up, otherwise, the meat might get tough. 
Remove foil; pour in broth, increase heat up to 400° F. Roast 15 min, remove from oven.  
The shanks are done when they are nicely browned and fork-tender.  
Transfer to a serving platter and spoon over the juices. 
Nutritional Information
Per serving: Calories 210, Fat 10 g (Saturated 2.5 g, Trans 0 g), Cholesterol 80 mg, Sodium 720 mg, Carbohydrate 2 g (Fibre 1 g, Sugars 0 g), Protein 26 g.