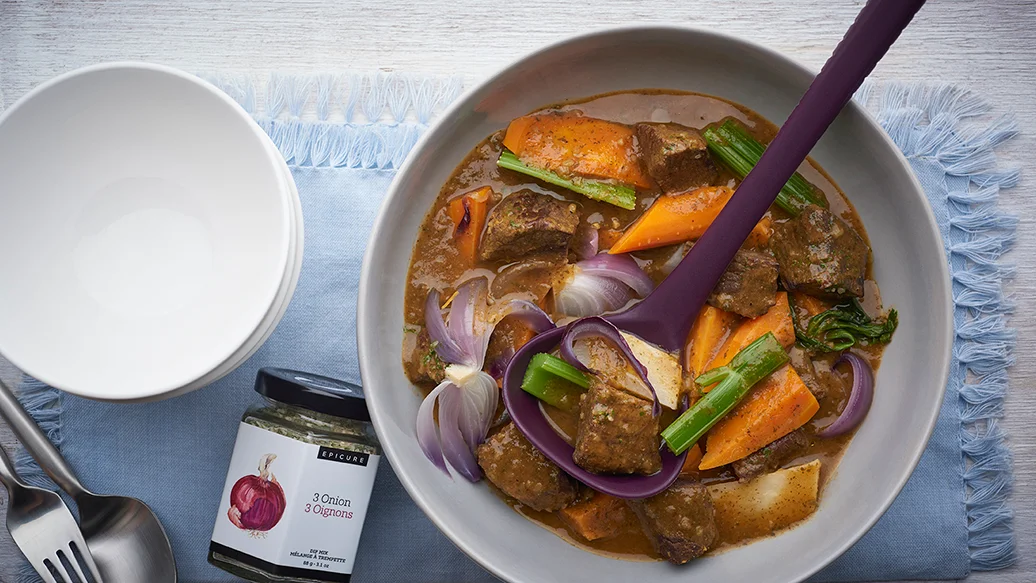 4 - 8 hrs
8 servings
$1.60/serving
This hearty and delicious beef stew is the perfect meal to warm you up on a chilly evening. Beef, vegetables, and a delicious broth make for slow cooker bliss! Make now or assemble and toss in your freezer. Tip: 3 Onion Dip Mix brings robust onion flavour to your stew without the need for chopping (3 tbsp = 1 small onion).
Perfectly Balance Your Plate
Serve with 1 serving Leafy Green Salad on the side.
Ingredients
2 lbs (900 g) lean, cubed boneless stewing beef
2 cups each carrots, turnips, sweet potatoes, onions and celery, quartered or cut in 1 1/2" thick chunks
Sea Salt, to taste
Black Pepper, to taste
4 cups beef broth, (just enough to cover)
Preparation
Make it now:
Combine all ingredients in a slow cooker and stir gently.
Cover and cook for 4 hours on high or 8 hours on low setting.
Make it ahead and freeze:
Place a large freezable bag standing open in a bowl; this will keep it in place when adding ingredients.
Place all ingredients except broth in the bag, seal, and lay flat in the freezer.
When ready to eat, remove from freezer at least 1 hour before cooking.
Place contents in the slow cooker, add broth, cover, and cook for 4 hours on high or 8 hours on low setting.
Nutritional Information
Per serving: Calories 240, Fat 7 g (Saturated 2.5 g, Trans 0 g), Cholesterol 50 mg, Sodium 120 mg, Carbohydrate 21 g (Fibre 5 g, Sugars 8 g), Protein 23 g.