Roasted Rosemary Chicken with Garlic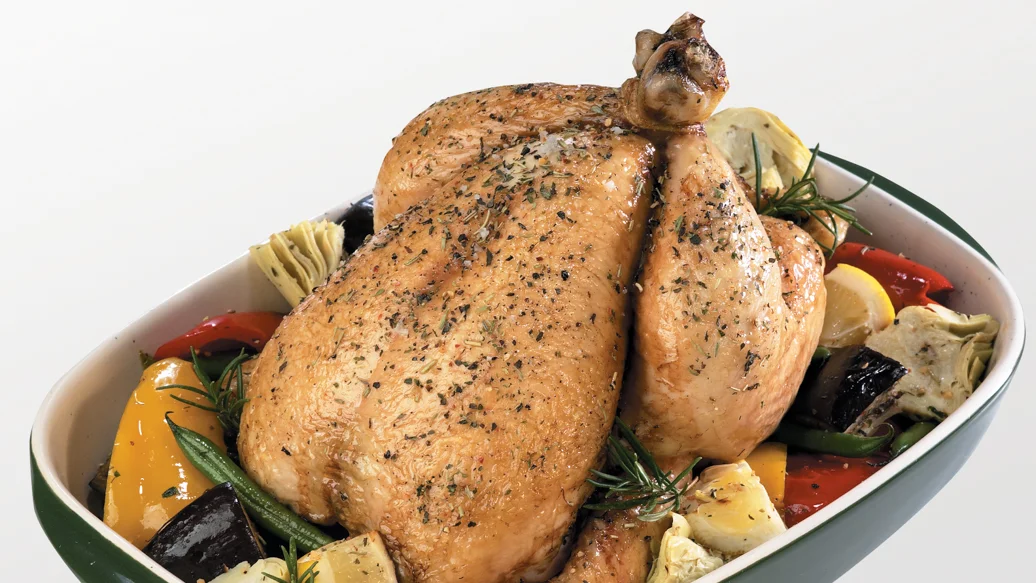 1 1/2 hours
6 servings
$1.60/serving
A delicious, classic French whole-chicken recipe!
Ingredients
1 (3 1⁄2-4 lb/1.6-1.8 kg) chicken
3 tbsp olive or vegetable oil, divided
1 large onion, cut into 8 wedges
2 large carrots, peeled and sliced
Sea Salt, coarsely ground, to taste
Black Pepper, coarsely ground, to taste
1⁄4 cup all-purpose flour
Preparation
Preheat oven to 325° F (160° C).
Sprinkle inside of chicken with Minced Garlic. Rub chicken with 1 tbsp oil and Rosemary Garlic Seasoning. Tie legs together, set inside a roasting pan and tuck wings underneath.
Surround with onions and carrots and season with Salt and Pepper.
Cover with foil and roast 1 hour and 15 minutes.
Place chicken on a serving platter and surround with roasted vegetables. Cover to keep warm.
Whisk flour, then Nourish Broth into pan juices to make a smooth gravy.
Nutritional Information
Per serving: Calories 470, Fat 32 g (Saturated 8 g, Trans 0 g), Cholesterol 125 mg, Sodium 160 mg, Carbohydrate 11 g (Fibre 2 g, Sugars 2 g), Protein 32 g.