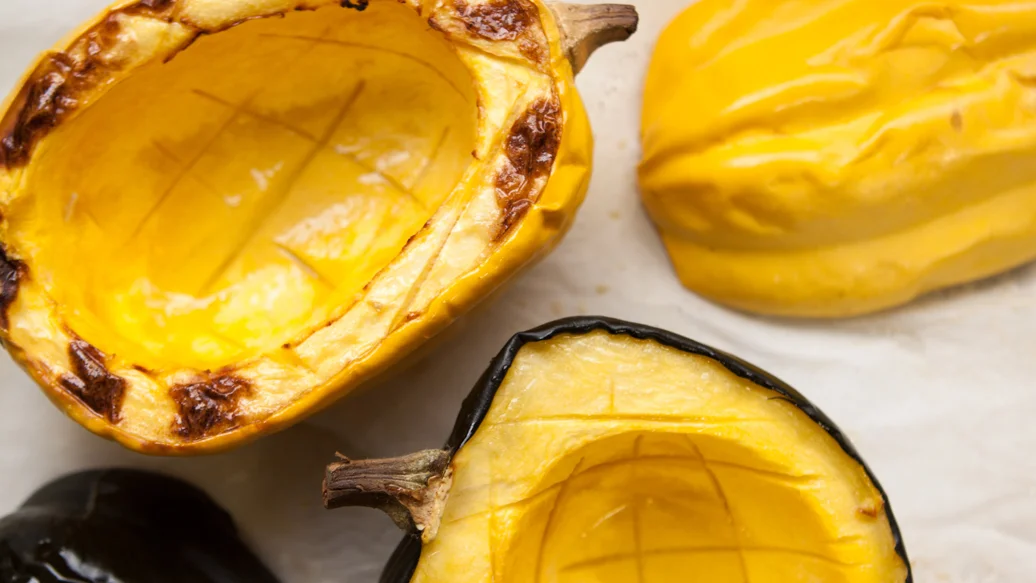 50 min
4 servings
$1.32/serving
A delicious side dish for a holiday feast that will really wow any guest! Acorn squash is rich in nutrients that boost immunity, improve eye and bone health, and help regulate digestion. Check out the recipe tip below on how to save 30 minutes of cooking time with the Multipurpose Steamer!
Perfectly Balance Your Plate
Serve with 4 oz (113 g) lean protein, 1⁄2 cup mashed potatoes, and 2 cups leafy greens with 1 tbsp Epicure Dressing. 
Ingredients
1 medium acorn squash, seeded and quartered, not peeled
1 tbsp vegetable oil
Sea Salt, to taste
Black Pepper, to taste
Preparation
Preheat oven to 375° F (190° C).
Rub cut side of squash with oil and sprinkle with Vegetable Seasoning, Pumpkin Pie Spice, Salt and Pepper.
Place prepared squash on Sheet Pan lined with Sheet Pan Liner and roast in oven for approximately 45 minutes, or until fork-tender and pleasantly browned. Serve immediately.
Nutritional Information
Per serving: Calories 90, Fat 4 g (Saturated 0.4 g, Trans 0 g), Cholesterol 0 mg, Sodium 0 mg, Carbohydrate 13 g (Fibre 2 g, Sugars 4 g), Protein 1 g.
Tips
To slash cooking time, break out your Multipurpose Steamer! Place squash halves cut-side down in steamer, cover, and microwave on high for 15 minutes for a perfectly cooked squash every time!