Red Pepper Jelly Meatballs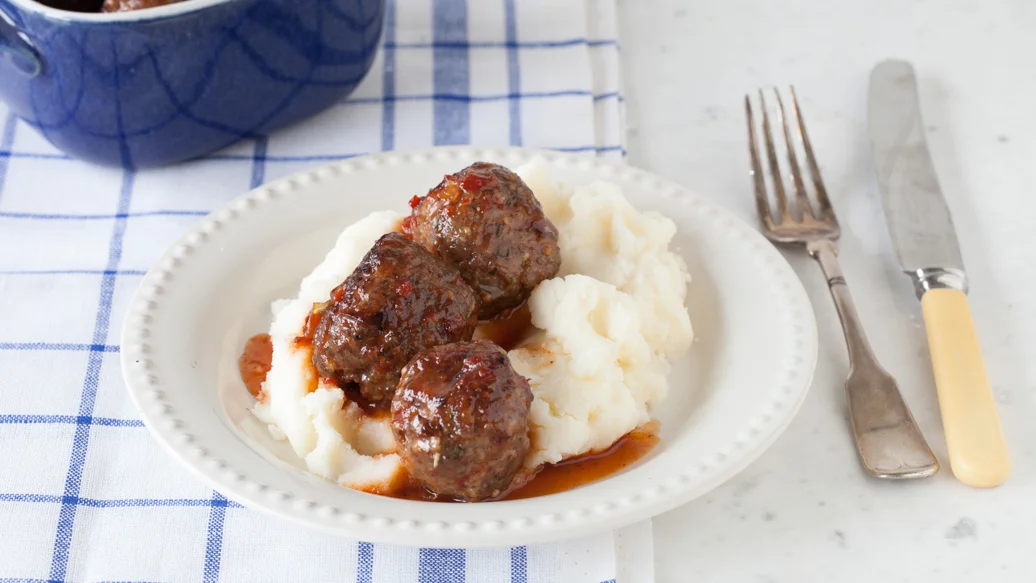 20 min
15 meatballs or 5 servings
$2.67/serving
Our best-selling Red Pepper Jelly makes the perfect sauce for your meatballs—it's sweet with just a touch of heat. Shake on Red Garlic Topper Blend for some more garlic and herb (and sodium-free!) flavour. Getting a good source of protein in your diet has never been more fun!
Perfectly Balance Your Plate
Serve with 1⁄2 cup mashed potatoes and 2 cups leafy greens with 1 tbsp Epicure Dressing.
Ingredients
3⁄4 lb (375 g) lean ground beef
Sea Salt (Grinder), to taste
1⁄2 cup diced onion
1⁄4 cup Parmesan cheese
1 egg
2 tbsp vegetable oil
Preparation
Combine first 7 ingredients thoroughly. Roll meatballs tightly.
Heat oil in a fry pan over medium-high heat. Add meatballs and cook, for about 15 minutes, turning frequently until nicely browned. Remove meatballs and set aside.
Remove excess oil from pan. Add Red Pepper Jelly and melt. Return meatballs to pan, and toss quickly to coat. Serve immediately.
Nutritional Information
Per serving (3 meatballs): Calories 250, Fat 12 g (Saturated 3 g, Trans 0.3 g), Cholesterol 80 mg, Sodium 320 mg, Carbohydrate 19 g (Fibre 1 g, Sugars 12 g), Protein 17 g.